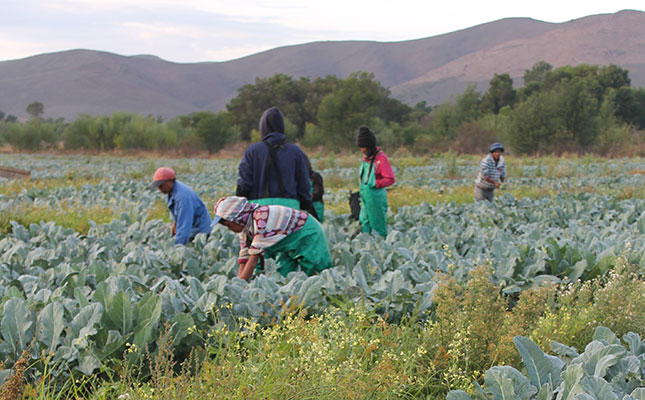 South Africa's national lockdown aimed at reducing the spread of the coronavirus disease (COVID-19) global pandemic is already taking its toll on farmers.
Dr Vuyo Mahlati, president of the African Farmers' Association of South Africa (AFASA), commended President Cyril Ramaphosa and government for their swift action to contain the disease.
However, she expressed concern about the impact the restrictions would have on smallholder farmers, in particular, in terms of logistics, farm supply deliveries, and access to markets.
"Farmers are already struggling to make ends meet due to drought conditions in various parts of the country, in combination with the negative impact of the foot-and-mouth disease [outbreak] on sales and production. Everyone was expecting this year to bring some welcome relief, but this is becoming increasingly unlikely [due to] the way things are now."
She added that many smallholder farmers were single mothers, whose farms were their sole source of household income and food security.
"I understand why schools have been shut down, but it will be difficult for these parents, and farm labourers, to work on farms with their children tagging along. As a matter of fact, on big farms this will only spread the risk of infection from the school to the farm."
Various regions were also grappling with water shortages, making it difficult to practice preventative "sanitisation protocols".
Besides driving costs up, face masks and sanitising products had also been sold out in most rural areas, leaving farmers, both commercial and small-scale, stranded without adequate protection for themselves and their workers, Mahlati said.
On the positive side, she said AFASA had been negotiating with the Minister of Agriculture, Land Reform and Rural Development Thoko Didiza to get municipalities more involved in the smallholder production supply chain, in an attempt to strengthen smallholder production and improve food security. These negotiations started even before the pandemic reached South Africa.
"The idea is to get municipalities to source food from smallholder farmers and to then create strategic points in the municipalities where the food can be stored and from which it can be distributed. Plans to do so is already in place in some municipalities in KwaZulu-Natal," she said.
Annette Steyn, MP for the DA, said she had been inundated with phone calls from farmers and industry players seeking advice and solutions.
One of the most significant challenges was created by a mistake in the wording of the initial lockdown regulations, which had since been corrected, she said.
"The mistake led to a misunderstanding, resulting in farmers being unable to move labourers and their products between districts and provinces."
She advised farmers to be practical and level-headed during this time, so that they could minimise the impact of the restrictions on their businesses and their own health.
"Four farmers in the Free State have already contracted the disease, so take precautions to minimise [the risk to yourself and your workers]. [Grant] leave to those people who are afraid, and work with only the necessary number of workers."
She warned that failure to take action could result in a situation in which an entire farm could be placed in lockdown.