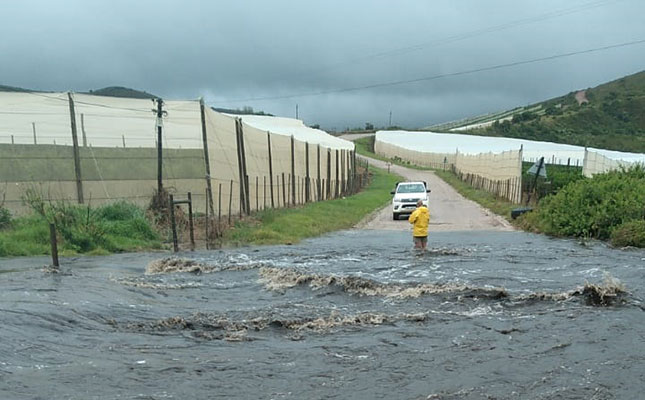 While the rain is widely welcomed, farmers in the Southern Cape could face serious damage after the region received heavy rainfall on Monday, 22 November.
Louis Wessels, former Western Cape chairperson of the Red Meat Producers' Organisation, told Farmer's Weekly that George received 150mm of rain between 5am and 7am on Monday.
READ Sheep farming: the best ways to reduce lamb losses
"This will definitely have a major impact on newborn lambs," Wessels said, adding that newborns could struggle to feed in such wet conditions.
"Luckily, it's not cold, so this will limit the damage. We will only be able to estimate the full extent of the damage in a couple of days."
He said farmers needed to take their animals to higher ground and take measures to prevent pneumonia.
Jannie Strydom, CEO of Agri Western Cape, said farmers were grateful for the rain, despite the flooding.
"Even in Oudtshoorn, [farmers] have received decent rain of over 50mm. We are thankful that the rivers are coming down.
"It is sad that towns are flooded, but the follow-up rain is very welcome in the Klein Karoo. Many of those farmers haven't had decent rain in nine years."
Meanwhile, Rossouw Swart, a wheat farmer near Swellendam, said the rain did not place the bulk of South Africa's wheat harvest in jeopardy, as about 80% of farmers in the region had already finished harvesting.
READ Irrigated wheat: Conservation farming improves water usage and yield
The rain started falling in the George-region on Sunday night, 21 November, Bennie Liebenberg, chairperson of TAU Western Cape, told Farmer's Weekly. Social media had since been inundated by photos of roads and buildings submerged in floodwater.
Liebenberg, a wheat farmer near Porterville, said the area had not yet received any rain, but he expected rainfall towards the end of the week.
"At the moment it isn't raining here, but I am worried. We are still busy harvesting our wheat and I will not be finished by the time that it starts raining," he said.
"However, the majority of farmers in the region will [have completed their harvesting]."
André Kirsten, vice-chairperson of Grain SA, said excessive moisture could potentially harm wheat's grading if it was harvested during rainy weather, or while it was wet.
Meanwhile, the South African Weather Service (SAWS) issued a warning for residents in and around Knysna, Plettenberg Bay, George, Swellendam, Riversdale, Robertson, Mossel Bay, Dutywa, Libode, Port St Johns, Mthatha, Stutterheim, Komga, Butterworth and Mount Ayliff about heavy rainfall and severe thunderstorms on Monday.
SAWS warned that electricity outages, flooding and traffic issues could be expected, along with strong winds and hail.