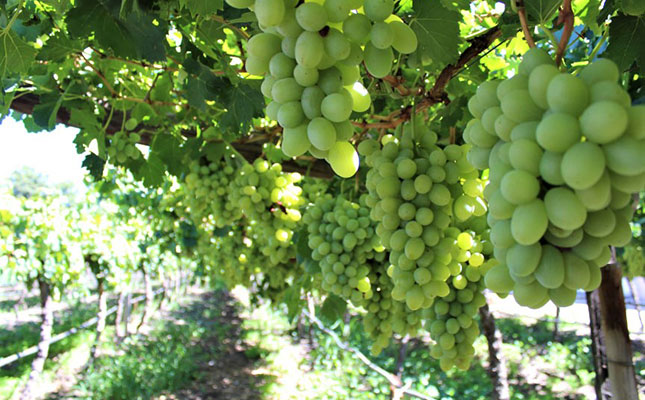 Intake volumes for South African table grapes are expected to increase to between 65,3 million and 69,8 million 4,5kg-equivalent cartons, according to the South African Table Grape Industry's (SATI) third crop estimate for the 2020/2021 season, released on Wednesday, 3 February.
Willem Bestbier, CEO of SATI, said the positive outlook was due to very good weather conditions, sufficient water availability after last winter's rainfall, large berry size, and the overall good quality of grapes.
READ Wine farmers go to court in a bid to overturn liquor ban
"The Orange River region is concluding its season, and the two-week delay at the start of the season and the rainfall at the beginning of the year have had less of an impact on the later cultivars than initially expected."
The 2019/2020 season ended on 66,15 million 4,5kg cartons. This season's increased estimate with regard to volumes was due to very good quality and harvesting conditions in the northern provinces of South Africa, as well as the three Western Cape-based production regions.
Bestbier said the Chinese market presented a very significant opportunity for South African table grapes, with an annual export potential of between 3,5 million and 4,5 million cartons.
He added, however, that this year would be difficult as the market seemed to be quite volatile as a result of the COVID-19 pandemic.
READ Sugar cane speedlings: the fast-track solution to quality seed cane
"About 75% of our exports will continue to go to Europe and the UK; the rest is evenly spread [across] the rest [of the international market], which includes Southeast Asia, the Far East, Middle East, US, and Canada."
It was expected that there would be greater demand from the local market this year.
"Quality products [are becoming] increasingly available on local supermarket shelves, and there is a drive towards [healthier] diets, which includes fresh fruit."
Bestbier added that the general demand for South African table grapes was steadily increasing, with the production base growing about 4% per annum over the past five years. However, the export market was very dependent on the weather during the packing season.
Anton Viljoen Jr, a table grape producer in the Hex River region and SATI chairperson, said: "The demand for pre-packed grapes in plastic punnets has picked up, which has created some delays in packing."
He added that the Olifants River region had had a good harvest so far, and had started to recover from the drought conditions experienced in the region over the past five years.