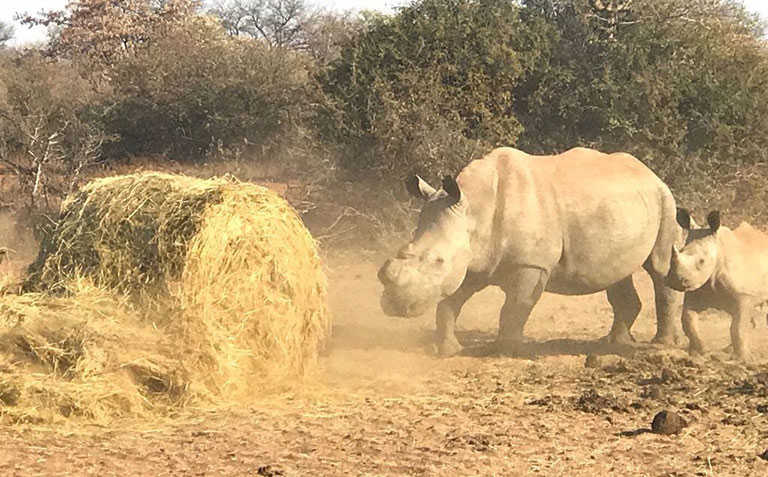 The three-year-long drought in the northern parts of Limpopo has had a devastating impact on livestock and game in the province, particularly on rhino.
This was according to Tersia Jooste, spokesperson for the organisation Rhino Connect, an NPO that focuses on the protection and conservation of rhino owned by the private sector in South Africa.
"Rhino cows find it extremely hard to raise their calves. Their milk dries up or the quantity and quality decreases markedly because of reduced food intake," Jooste explained.
Rhino Connect also runs an orphanage for rhino calves and recently took in three calves whose mothers had either died or had abandoned their young.
She said that rhino breeding was very capital-intensive and that some breeders were finding it difficult to feed their animals.
Land owned by breeders in the drought-stricken areas was devoid of all grazing, which had compelled them to buy in feed at high cost.
One rhino required at least one 300kg bale of feed every 24 hours. At the moment, three 300kg bales were used for 10 to 15 animals per 24 hours.
Agri Lephalale chairperson, Douw Pelser, said that the Lephalale, Tom Burke, Dendron and Vivo areas, among others, were exceedingly dry.
All grazing for grazers and browsers had been depleted, with game species such as kudu and impala succumbing to the drought in droves.
As a result, some cattle ranchers had decreased their herds by as much as 50%.
"It is a sad picture indeed to see cattle on the brink of death. Large numbers of livestock have already died and I simply do not know what we are going to do if it does not rain soon," he said.
Pelser also expressed concern about conditions in the region's communal farming areas and said that these areas had been rendered nearly desert-like since the drought started.
He added that it was vital that the state began rolling out drought relief for these farmers, otherwise the few who remained would also lose their animals.
The drought victims were extremely grateful for the feed donations received from the Boere in Nood organisation, he said.
Spokesperson for Boere in Nood, Tommie Klopper, said more than 20 loads of feed had been delivered to the area since August. "We nevertheless need many more feed donations.
At the moment we receive large donations from Mpumalanga, but the demand is increasing day by day."
To make any donations, phone Tommie Klopper on 062 300 2308.