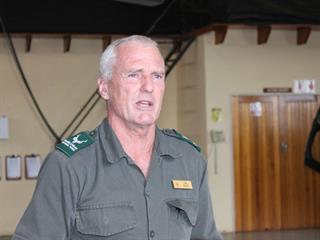 The theme of the event was public awareness around efforts to combat rhino poaching. Communities, represented by mayors and tribal leaders, expressed their anger at foreign crime syndicates removing animals that attracted tourists saying this was an invasion on commercial activities that supported them.
The media was treated to a tour of the KNP bomas where five rhino youngsters were housed with surrogate mothers. The youngsters were orphaned by poachers after the weaning stage, but still at a stage where they needed the protection of the female.
KNP official Guy Hausler said they had settled down well with their 'new moms'.
Gallery

A warthog mother, with her offspring, welcomes media to KNP at the start of a media tour to mark World Wildlife Day. The warthog family group is feeding on a planted island outside the Skukuza reception area.

One of Kruger's poacher tracker dogs with his handler in Skukuza camp at the start of the UN's World Wildlife day.

Young rhino orphaned by poachers in a boma with their surrogate mother. The surrogates are young females and they adjust quickly to their maternal duties, says SANParks officer Guy Hausler.

SAPS helicopter about to land on Skukuza's airfield. The police are involved with SANParks in the fight against rhino poaching in the Kruger National park.

Dr Moscow Marumo called for the participation of all South Africans in the
fight against rhino poachers.

Camouflaged in the canopy of a Ficus on the banks of the Sabie River
are a number of green pigeons feeding.