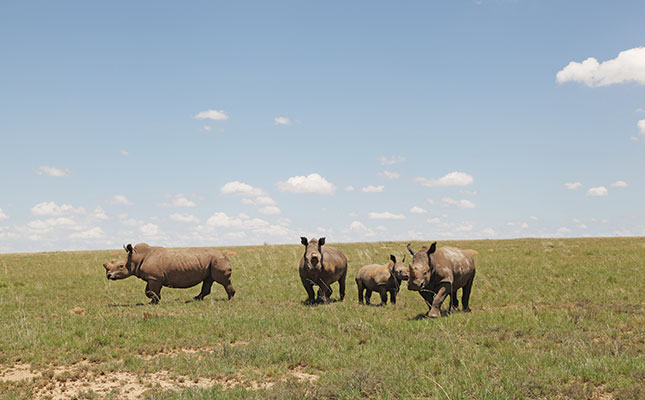 According to provincial conservation organisation, Ezemvelo KZN Wildlife (KZN Wildlife), eight of the poached animals were white rhino and one was a black rhino.
KZN Wildlife spokesperson, Musa Mntambo, told Farmer's Weekly that a total of 10 dead rhino had been discovered during routine security patrols in the 96 000ha park on 12 May 2017.
READ Local trade in rhino horn now legal
"One of the rhinos died of natural causes. Seven of the poached rhino were found in the iMfolozi section and two were in the Hluhluwe section," he said.
Forensic analyses of the animals found that some had been killed and their horns hacked off four weeks prior to the discovery. The most recent incident had occurred a mere 12 hours before the discovery.
Mntambo said that two alleged rhino poachers had been arrested just outside the park soon afterwards. The suspects were found in possession of a .375 rifle and a silencer.
"The firearm has been sent for ballistics analysis to determine if it is linked to the poaching of the nine rhino. The case has been handed over to the SAPS for further investigation," he added.
KZN Wildlife reported that the number of poached rhino had been amongst the largest discovered in a single day.
The organisation said that poachers were increasingly targeting rhino in KZN conservation areas as anti-poaching security in the Kruger National Park had improved.
"But arrests of poachers in KZN are [also] increasing. More poachers have been arrested this year so far than for the same period in 2016," Mntambo said.
He added that between 1 January and 16 May 2017 a total of 90 rhino had been poached on public and private conservation areas in KZN.