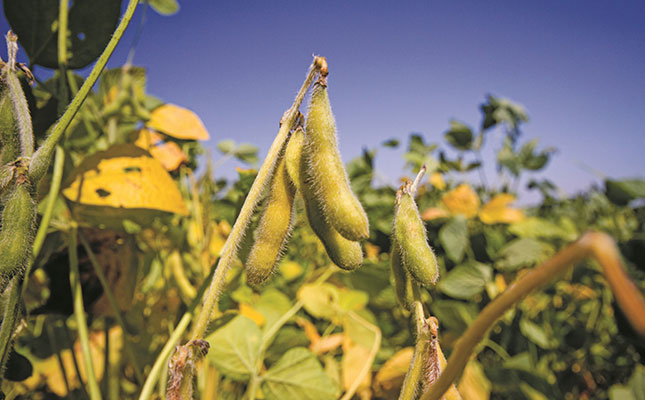 The Crop Estimates Committee's (CEC) recently released report for summer crops indicated that soya bean production was set to reach 1,93 million tons, which was 2,38% or 44 850t more than the previous forecast of around 1,89 million tons.
READ A six-step method for maximising soya bean yield
According to the report, the estimated area planted to soya bean was 925 300ha, with an expected yield of 2,09t/ha.
"These high production volumes will see a notable decline in soya bean and oilcake imports, which will be a good boost for the local livestock and poultry sectors, because there will be ample stocks available locally," Sihlobo told Farmer's Weekly.
However, he warned that an increase in local production wouldn't necessarily lead to a decline in prices.
"Local soya bean prices follow global trends, and therefore prices will remain high," he said.
Jaco Minnaar, president of Agri SA, said that from a farmer's perspective, it was encouraging to see that soya bean performed better in waterlogged fields than maize did.
"This gives farmers an alternative crop [during wet periods], which was not available a decade ago."
READ Early planting: the key to soya bean success
Minnaar said that soya bean plantings were expected to continue to expand in the coming years. "It's exciting to see the plans [for] soya bean [made during] the past 15 years to expand the industry, coming to fruition."
Last year, South African farmers had already planted a record 827 100ha of soya bean and delivered a bumper crop of nearly 1,9 million tons at an average yield of 2,29 t/ha, according to the South African Grain Information Service.
Since 2014, the country had also been expanding its soya bean crushing capacity, Sihlobo added.
He said that, in general, South Africa needed to continue to boost vegetable oil production, especially that of sunflower and canola oils.
"The higher global agricultural commodity prices and abrupt trade interventions by various nations are likely to be with us for the foreseeable future," he said.
The CEC's production forecast for sunflower seed remained unchanged at 963 000t, while the area estimate remained at 670 700ha, with an expected yield of 1,44 t/ha.
In terms of maize, the CEC said the expected commercial maize crop remained unchanged at just over 14,72 million tons, with an area estimate of just over 2,62 million hectares, and an average yield of 5,61t/ha.
This was 10% less than the 2021 crop.
The fifth production forecast for summer field crops for 2022 is scheduled for release on 28 June 2022.