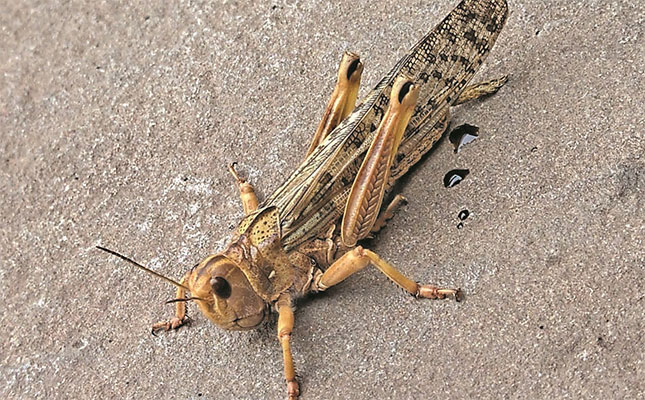 The Northern Cape Department of Agriculture, Environmental Affairs, Rural Development and Land Reform therefore urged farmers to report any sightings as soon as possible.
Departmental spokesperson, Zandisile Luphahla, confirmed that swarms of locusts had been reported in the Upington, Kliprand, Gamoep, Carnavon and Loeriesfontein districts.
Newly hatched swarms were also observed throughout the Namakwaland region, according to Dr Gerhard Verdoorn, Croplife South Africa's operations and stewardship manager.
"From [as far as] Graaff Reinet to Cradock there are many first and second instar swarms that have started moving, while in the Hanover area in the central Karoo, there are swarms that are already flying."
Verdoorn told Farmer's Weekly that swarms were currently smaller than 4km2 in size, but Croplife expected these swarms to become "mega swarms once they join up".
"If these swarms breed, we will see a population explosion. It will be difficult to control locusts this season because the Namakwaland and Northern Cape received a lot of rain, [and we therefore] expect more locust [outbreaks] than last year.
He called on farmers to destroy small swarms by sending their sheep herds into the areas where the insects were present. Another option was for farmers to tie branches to the back of their bakkies and drag them across the locust swarms, he added.
According to Luphala, the department was especially concerned about the spread of locusts across the vast areas of unoccupied land in the province.
"The insects can multiply without any disturbance in these areas. Often the swarms are only noticed once they reach the road [surface]. By then they've often [matured enough] to fly."
Despite the anticipation of a larger outbreak, Luphahla said the department and its locust controllers were better organised than last year.
"We held a workshop with controllers in Kimberley at the end of August where past problems were addressed. Issues such as administrative processes and shortages surrounding [equipment] were also addressed."
In addition, the department ensured that it had more chemicals available to spray the locusts this year, said Luphahla.
"We are very grateful for the assistance we have received from farmers and farmer organisations. We have had a very successful working relationship thus far and look forward to building on this."
To report sightings of locust swarms, send a WhatsApp message to Croplife SA on 082 446 8946 or phone the department at 053 631 3261.