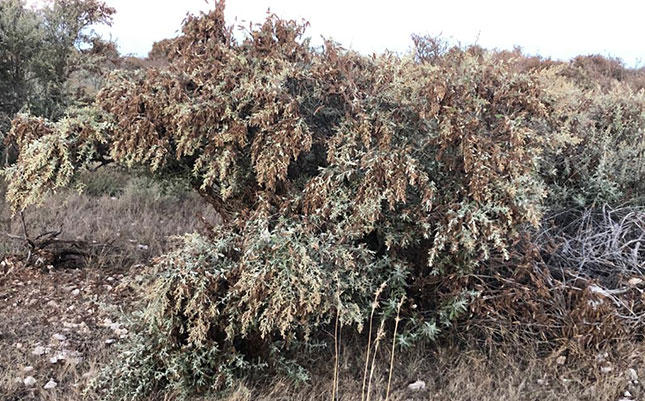 The current brown locust (Locustana pardalina) outbreak in the Northern Cape is by far surpassing the infestations witnessed earlier in the year as well as last year.
Millions of eggs deposited in the soil during the previous outbreaks have hatched due to the recent warmer weather, resulting in hundreds of locust swarms reaching the pedestrian phase of development.
This was according to Janine Byleveld, Agri Northern Cape's operations manager for natural resources.
"About 70% of the province is affected by the current outbreak. The Namaqualand ZF Mgcawu and Pixley ka Seme District Municipalities were particularly hard hit by the locusts.
"Detecting the swarms posed a major problem because of the vastness of the areas. Farms are spread out and landowners often only become aware of an outbreak days after the hatchlings [emerge].
"We need all the help we can get, and therefore call on motorists to report all swarms they [observe] to Agri Northern Cape as a matter of urgency," he said. 
The situation was being exacerbated by the fact that some swarms in areas such as the Upington district had recently reached the flyer stage.
This made the locusts extremely difficult to manage since the swarms could only be combated in the evenings in their roosting sites.
According to her, the locusts were voracious grazers and devoured all plant life in their path.
"The current outbreaks are particularly worrying. In many parts of the drought-stricken areas of the province, the veld that just started to regrow after a drought of many years, is now [being devoured] by the locusts," Byleveld added.
The situation was equally bad in the Eastern Cape. According to Pieter Knoessen, chairperson of the Steytlerville Farmers' Association, the Groot Karoo region of the province had been exceptionally hard hit by the locusts.
For example, in the western part of the Willowmore district, as many as 90 swarms were reported during the past few weeks.
"The damage caused by the insects is imeasurable. It would invariably have an economic impact on the farming sector. Our main aim at the moment is to get to, and stamp out, as many swarms as possible before the insects reach the flying phase of their [life cycle]," he explained.
Both Knoessen and Byleveld expressed gratitude towards government officials for their prompt and regular support.
"There is good co-operation between officials and landowners, and it is clear that the officials are doing their utmost to manage the outbreak and exterminate the locusts," Knoessen added.