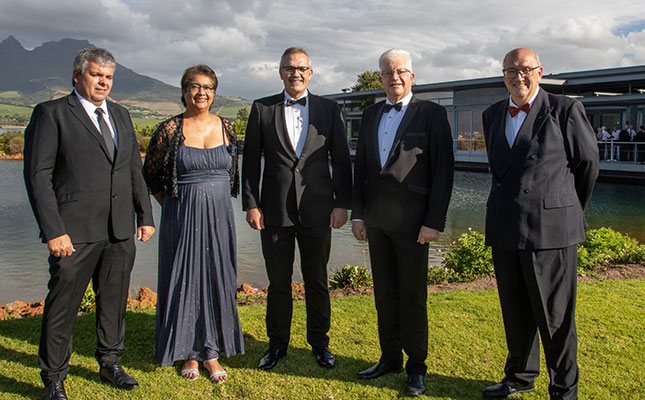 Agri-Expo, one of the oldest agricultural societies in South Africa, recently honoured prominent agricultural role players and announced new initiatives at its 190th anniversary celebration held at Cavalli Estate near Stellenbosch.
According to Johan Ehlers, CEO of Agri-Expo, the organisation started out as the Cape of Good Hope Agricultural Society in 1831, when a group of farmers got together to compare product standards and discuss research methods.
Two years later the organisation hosted what became the forerunner of all wine shows, and in 1847 this resulted in the hosting of the first livestock show.
Ehlers said renewal had always been part of Agri-Expo's DNA, including the initiative to establish organised agricultural structures in South Africa, such as the first department of agriculture in the then Cape region in 1886, and an agricultural college in 1888.
More recent highlights included the establishment of the national Youth Show Association in 1998; the development of the Qualité logo in 2001, as the only mark of excellence for South African dairy products; the creation of the SA Cheese Festival brand in 2002; the From the Earth Expo in 2006 and 2009; and a world-first horse sale inside a conference centre at the CTICC in 2011.
Other initiatives included the transformation of information days for new and small farmers into hybrid SIYABONGA days in 2020, and the very first virtual awards event in the agriculture sector, the 2020 Qualité Awards, which paved the way for many other similar virtual events.
In addition, an international agriculture-in-the-classroom project, a kykNET television series on cheese, and a series of SA Cheese Festival Pop-up Picnics were launched.
Agri-Expo also made use of the celebration to honour the Western Cape premier, Alan Winde, for his contribution to agriculture during his term as MEC for economic opportunities from 2014 to 2018, and as premier of the Western Cape.
Joyene Isaacs, chairperson of the Agricultural Research Council, was honoured for her contribution to agriculture during her term as head of department of the Western Cape Department of Agriculture from 2005 to 2020.
Ehlers said Isaacs played a very significant role as co-ordinator between government and the private sector, creating numerous opportunities for Agri-Expo to network and in effect strengthen its platforms.
Former president of the organisation from 1994 and 1998, Kobus Mulder, was bestowed the title of Agri-Expo honorary president.