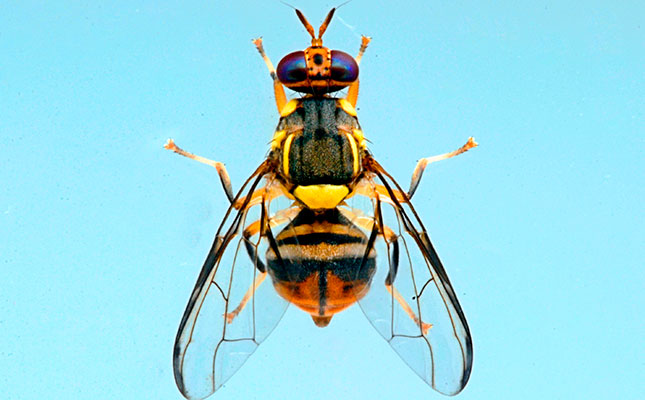 Joint monitoring and control efforts by both public and private sector role players have resulted in the successful eradication of the highly invasive and destructive oriental fruit fly (Bactrocera dorsalis) from two Northern Cape district municipalities.
A statement by the Department of Agricultural, Land Reform and Rural Development (agriculture department), said this had been achieved in the Pixley ka Seme and ZF Mgcawu District Municipalities.
READ Swartland jam factory turns rejected fruit into profit
The statement explained that a variety of actions were taken to combat oriental fruit fly in these two municipalities following multiple detections of this insect pest between February and May 2019.
"Phytosanitary actions were implemented to control the movement of fruit from the areas under delimitation. Eradication, which included the application of protein bait sprays, deployment of male annihilation blocks, and strict field sanitation within the quarantine areas, was successfully conducted," the statement said.
The statement added that key commercial fruit production that stood to be negatively affected by the presence of the pest in these municipalities included citrus, table grapes and pomegranates.
"However, this a polyphagous pest that can utilise hosts cultivated by the citrus, deciduous and subtropical fruit industries, as well as berries, tomatoes, cucurbits, and crops for processing, such as grapes for raisins and wine. This pest can result in food insecurity, yield reduction, job losses, market restrictions, and high production and post-harvest costs, if it is not effectively controlled," said agriculture department spokesperson, Reggie Ngcobo.
READ New net solution to protect fruit from sunburn
Hugh Campbell, general manager of the Science division of deciduous fruit industry organisation at Hortgro, told Farmer's Weekly that since the pest had reached South Africa in 2011, it had become progressively difficult to manage the spread of the pest.
Part of the challenge was to ensure that the formal and informal sectors followed the various legislated protocols and procedures for transporting fruit from oriental fruit fly-affected areas to non-affected areas of South Africa.
Campbell said the pest was present but under official control across much of Mpumalanga, parts of Limpopo, and along much of the KwaZulu-Natal coastal belt.
READ SA's citrus growers dispute 'Spanish fine' claims
"Our deciduous fruit sector, and other fruit sectors, have comprehensive protocols and procedures in place to ensure that oriental fruit fly and other fruit flies are not found in any of our exports. This is essential because, for example, the EU has a zero-tolerance approach to oriental fruit fly arriving via fruit imports. If just one specimen of oriental fruit fly is found in a consignment of fruit at an EU border, the entire consignment will be sent back to the country of origin," Campbell explained.
Ngcobo urged traders, community members, marketing agents and farmers not to remove fruit from quarantine areas without first obtaining a removal permit from the agriculture department's Directorate of Inspection Services.