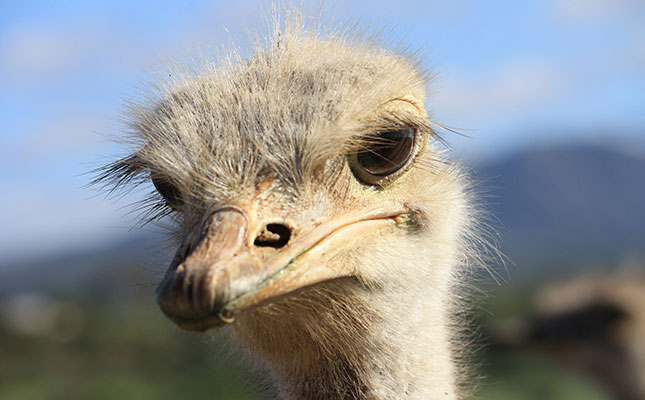 Ostrich producers in the Klein Karoo are expecting a challenging production year due to the prolonged drought in the region, as well as the uncertainty created by the COVID-19 pandemic
Joey Potgieter, chairperson of Agri Klein Karoo, told Farmer's Weekly that the region was entering its sixth year of drought.
READ Repeal of SA drought disaster declaration met with shock
"In the valley [stretching from Montagu to Uniondale] there is currently no production of any crops whatsoever. This creates a big problem for ostrich producers as there is no lucerne [available], which is a big component of the rations for ostriches. Feed has to be transported from far [afield], which puts great financial pressure on producers."
In addition, the prices of ostrich products had halved overnight, adding to the woes of cash-strapped farmers.
According to Potgieter, about 70% to 75% of the world's feathers were imported by companies in China.
"This market closed its borders in January due to COVID-19. For the past seven months the feather market has been struggling, and prices dropped by 50%. Where we usually received R1 600 for the features of a slaughtered bird, the price is now R800 per bird."
He added that Cape Karoo International had also introduced slaughter quotas for the 2020/2021 production year, in an effort to reduce ostrich meat volumes in the market in response to the current tough trading conditions.
READ High-end agri products most affected by COVID-19 lockdown
"There is [also] great uncertainty about how world markets will respond post-COVID-19, especially towards high-end goods such as ostrich products."
According to Potgieter, most of South Africa's ostrich meat was exported to countries in Europe as pre-heated meat.
Due to the "stop-go situation with" exports, as a result of avian influenza outbreaks, ostrich meat providers had forfeited their shelf space in European supermarkets.
"It has been a big challenge to recover some of the lost shelf space," he said.
Jannie Strydom, CEO of Agri Western Cape added that, "the Klein and Central Karoo, as well as the Matzikama district of the West Coast [region], are in extreme distress. Farming units are no longer profitable, and many producers no longer have the financial means to cope with the continued drought".
He appealed to grain producers in the northern regions of the country to donate maize to the organisation's drought relief fund to enable Agri Western Cape to deliver donations of feed to producers in the drought-stricken areas whose viability depend on it.
To contribute to the Agri Western Cape Drought Relief Fund, phone 021 860 3804.