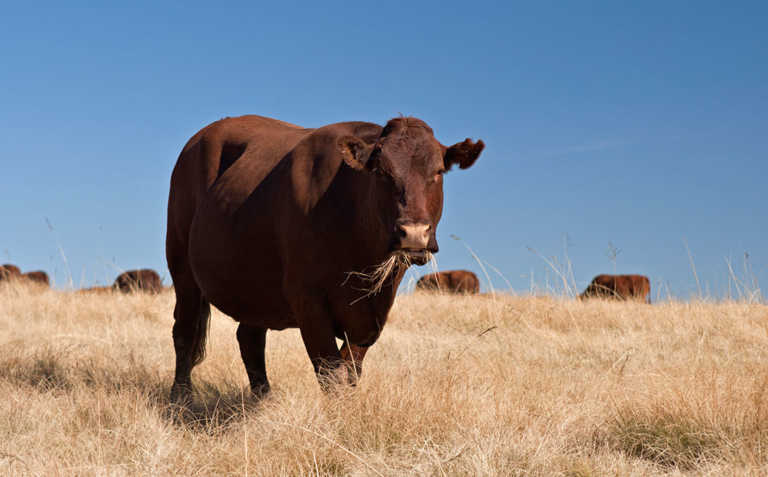 A cow that conceives is destined to be four times more profitable than one that does not. This is according to Professor Cliff Lamb of Texas A&M University in the US.
Lamb was speaking at the 10th annual Aldam Stockman's School which took place in the Free State from 17 to 19 October.
The theme for this year's school was 'Reproduction: the foundation for profitability'. According to organisers, more than 200 people had registered to participate.
READ Signs of a healthy dairy cow
Focusing on applied reproductive strategies in beef cattle, Lamb said if a cow failed to conceive, her other production traits had little value.
"In a beef cattle operation, getting a cow pregnant is more economically important than any other thing you could select for," he said.
He added that the most important benchmark for a beef operation was the percentage of cows that calved early in the season.
Lamb expanded on technologies available to producers, such as using oestrus synchronisation.
READ How to select a top-performing beef cow
"Oestrus synchronisation isn't just a tool to stick semen into a cow," he said. It was a reproductive management tool that could be used to enable a group of animals to become pregnant early in the breeding season, as well as stimulate non-cycling animals to start their oestrus cycle sooner, for example.
Another speaker, Professor Michael McGowan of the University of Queensland, Australia, highlighted four major aspects affecting herd fertility: nutrition, lactation, cattle health, and stress and breeding.
READ 5 signs your cattle is on heat
He said that nutrition and lactation needed to be managed according to which cows in the herd were under the greatest feed stress. For example, due to the rapid increase in foetus size during the last trimester, a cow's feed and protein needs were far higher at this stage and increased even more during lactation.
"When a cow starts lactating, she requires far more nourishment. She needs three times as much protein as a non-lactating cow," he said.
McGowan's closing message was that there were no silver bullets. Highly fertile herds were run by farmers who paid great attention to detail and carefully managed the four aspects highlighted above.