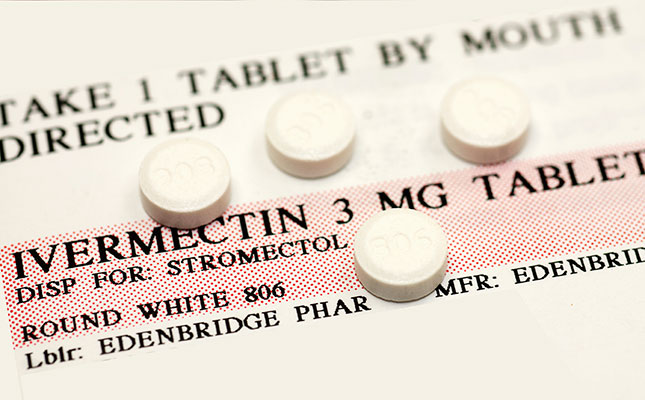 A group of South African medical professionals and AfriForum are separately pressuring government to fast-track authorisation for the use of human-approved ivermectin products as a potential preventative and curative treatment against COVID-19 infections.
At present, in South Africa, human-approved ivermectin is only permitted for extremely limited and highly regulated use against certain parasites in people.
However, animal-approved ivermectin products are readily available, and therefore many fearful citizens have reportedly been buying and illegally self-administering these in a desperate attempt to prevent or cure COVID-19 infections.
In response to Farmer's Weekly's previous reports that South Africans were treating themselves with animal-approved ivermectin products, the World Health Organisation's representative in the country, Dr Owen Kaluwa, warned that "in general, self-medication is far from being a completely safe practice, in particular in the case of non-responsible self-medication".
He explained that potential risks of such self-medication included incorrect self-diagnosis; people delaying seeking proper medical advice when they need it; infrequent but severe adverse reactions to this medication; dangerous drug interactions; incorrect manner of administration; incorrect dosage; incorrect choice of therapy; and the masking of a severe disease.
"[WHO] currently has not made any recommendations on the use of ivermectin, but is closely following the research on this drug, which has shown promising results in some trials as a treatment for COVID-19. With results from more trials coming in, we will conduct a systematic review with an independent panel of experts. All changes to WHO-recommended treatments follow this expedited, but comprehensive review, and are shared with the public at the earliest possible time," Kaluwa said.
An open letter written recently by a KwaZulu-Natal-based general practitioner, Dr Naseeba Kathrada, to President Cyril Ramaphosa, and which was signed by close to 100 other South African human health experts, pleaded with Ramaphosa to urgently establish a "special council to do a thorough and rapid review of ivermectin" as a potential treatment for COVID-19 infections.
"Mr President, we are living in unprecedented times, and right now, families are [being] left shattered by the hour. Morale amongst healthcare workers is the lowest it's ever been, and we on the frontline are exhausted. There is no need or time for a formal application at this time. Respected President, I implore you at this time of the need to legalise ivermectin. Trust us, the health professionals who are the most vulnerable against this disease, to dispense ivermectin with informed consent," Kathrada wrote.
Ramaphosa's acting spokesperson, Tyrone Seale, did not reply to Farmer's Weekly's requests for The Office of the Presidency's response to Kathrada's letter.
AfriForum recently also brought an urgent court application against the South African Health Products Regulatory Authority and against the Minister of Health, Dr Zweli Mkhize, in an attempt to legally compel them to allow doctors to prescribe human-approved ivermectin products to treat COVID-19 infections.
"We find ourselves in extraordinary circumstances. Every day costs more lives. Under such circumstances the potential risks and benefits of a decision should be weighed with urgency, and actions should be decisive. Ivermectin is listed by the World Health Organisation as an essential medicine [to treat other human health problems], and it has been proven safe [in both adults and] in children," said AfriForum's head of research, Barend Uys.
In an opinion piece written recently for The Post newspaper, respected South African medical professional, Prof Terrence Kommal, warned people not to use ostensibly human-approved ivermectin products that have been illegally imported into the country.
"[…] there are […] serious dangers in buying the illegal ivermectin on the black market. In the case of illegal products that I've already seen that come from India and Pakistan, there is always the risk of somebody manufacturing fake products. Toxic substances could be used and it could result in unknown complications and the risk of death," he said.
Farmer's Weekly previously reported that the South African Veterinary Association and the local animal health products provider, Afrivet, had jointly launched a campaign aimed at discouraging outlets from selling animal-use ivermectin products to customers who were intending to use it for human consumption.