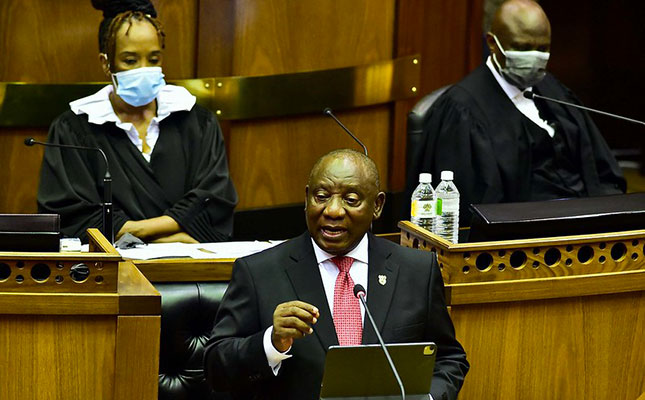 The remarkable work of the agriculture sector amidst the economic damage caused by the COVID-19 pandemic was acknowledged during this year's State of the Nation Address (SONA).
President Cyril Ramaphosa praised the South Africa citrus industry for becoming the second largest global exporter of citrus last year. He added that strong export growth in wine, maize, nuts, deciduous fruit and sugar cane was also recorded.
"The favourable weather conditions in 2020 and the beginning of 2021 means that agriculture is likely to [further] grow in the near future."
According to Ramaphosa, land reform remained a priority and would be fast-tracked by establishing a Land and Agrarian Reform Agency.
"To date, government has redistributed over five million hectares of land, totaling around 5 500 farms, to more than 300 000 beneficiaries. This is in addition to the land restitution process, which has benefitted over two million land claimants and resulted in the transfer of around 2,7 million hectares."
However, Ramaphosa made no reference to the Expropriation Bill currently open for comment, or expropriation of land without compensation.
He also said government would pursue programmes to assist smallholder and emerging farmers with market access, as well as developing skills across the entire agriculture value chain. In addition, government would also work towards increasing the number of commercial black farmers.
In his address, the President called for the prioritisation of economic recovery, and encouraged South Africans to support local businesses and to buy local goods. He especially appealed to South Africans to support the local sugar industry.
"The [Sugar Cane Value Chain Master Plan to 2030] was signed during the lockdown, with a commitment from large users of sugar to [procure] at least 80% of their sugar needs from local growers."
Rampahosa said that through the implementation of the plan, an increase in local production and a decline in imported sugar were reported last year.
"This created stability for an industry that employs some 85 000 workers."
The call was welcomed by the South African Cane Growers' Association, which launched its buy local campaign, Home Sweet Home, in December 2020.
"The campaign had been well received by South African consumers. Our preliminary findings show that sales of local sugar have increased 12% year-on-year. We are hopeful that the President's call will embed these early signs of shifted behaviour by committed South Africans," said Rex Talmage, chairperson of the association.
"Furthermore, to sustain these positive changes and increase jobs in industry, it is also important that government's commitments under the [sugar master plan] are put into action. Under Action Commitment One of the plan, government has undertaken to promote the use of local sugar by all its departments and state-owned entities."
Responding to SONA, TAU SA said the organisation was optimistic about Ramaphosa's approach to promote local products and local buying.
"Unfortunately, the unfavourable labour policy and uncertain private ownership make it very difficult for entrepreneurs to do business in this country," the organisation added.