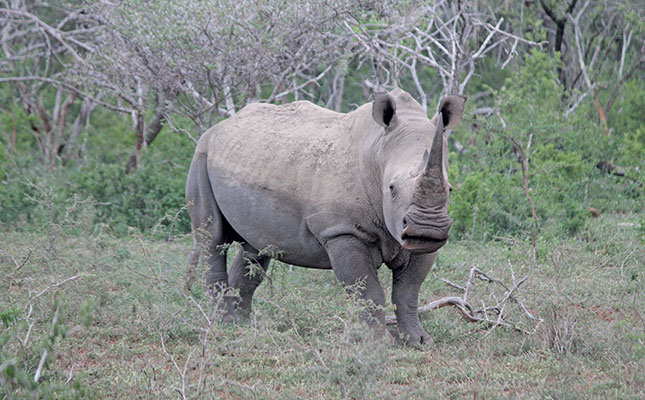 There has been a decline in the number of rhinos being poached in South Africa, with 508 falling victim to poachers in the year ending 31 August  2018, compared with 691 killed during the preceding period, according to the latest figures released by the Department of Environmental Affairs (DEA).
However, according to Pelham Jones, chairperson of the Private Rhino Owners' Association, poachers were increasingly shifting their illegal activities to privately-owned rhino populations perceived to be softer targets.
Jones explained that while more effective anti-poaching initiatives, policing and prosecutions had been the main contributors to the decline, this had largely been evident in government-owned and funded conservation areas, especially the Kruger National Park and Ezemvelo KwaZulu-Natal Wildlife's parks.
"Private rhino owners have seen a substantive increase in [poacher] incursions and [rhino poaching] numbers. I don't have the latest comparative figures, but between 2016 and 2017 there was a 46% increase in the number of rhinos poached in South Africa's private reserves," he said.
"This shows a very alarming trend, [as] rhino poachers are seeing private reserves as softer targets. Private reserves [therefore] remain in a desperate situation."
This was despite private rhino owners increasing expenditure on rhino protection actions "four-fold" between 2015 and 2018, Jones added. "The net result is that a number of [private] reserves have simply thrown in the towel and, where buyers can actually be found, sold their rhinos for very low prices."
He urged government to provide anti-rhino poaching support to private reserves, and also reiterated the association's call for the international trade in rhino horn to be legalised.
Jones explained that income generated from legalised rhino horn trade would substantially fund anti-poaching efforts in private reserves.
"Private reserves play a key role in the conservation of rhino and other endangered wildlife species. In fact, South Africa's private reserves now collectively own more rhino than all of the country's government reserves do."
"Rhino poaching is a national priority crime and, as such, all the relevant government departments will continue their close collaboration to ensure this iconic species is conserved for generations to come," DEA spokesperson, Albi Modise said.