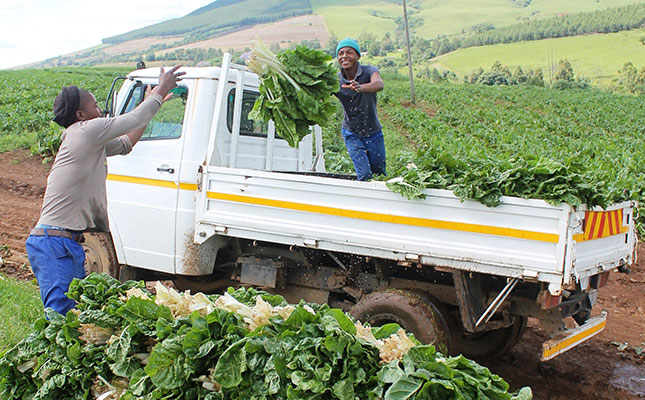 Positive sentiment in South Africa's agriculture sector continued improving in the first quarter of 2021 (Q1 2021) after Q4 2020's sentiment was initially deemed the most positive since the second quarter of 2014.
The latest Agbiz/IDC Agribusiness Confidence Index (ACI) report said that this overall sentiment had increased to 64 points from the previous quarter's 61.
"These results likely reflect not only the robust performance of South Africa's agriculture sector in 2020, where gross value-added expanded by 13,1% year-on-year, but also positive early signs for another season of large harvests in 2020/2021 from most subsectors," the report said.
Increases in the turnover and net operating income indices were attributed to South African agriculture's large crop harvests in the 2019/2020 production season, which boosted financial conditions.
Sub-indices that showed improvement, but remained in negative sentiment territory, were employment, which increased two points to 43; capital investments, which increased five points to 46; and economic conditions, which increased 16 points to 39.
"[The Employment] subindex suggests that agribusiness remains cautious about increasing staffing levels, [and] the recent increase in the agricultural minimum wage has caused discomfort amongst agricultural role-players […]. [Regarding] the Capital Investments subindex […] there is […] evidence of improved sentiment in sales of movable agricultural assets, such as tractors […]. The economic conditions subindex […] is still far off the neutral 50-point mark, which indicates relatively pessimistic expectations about South Africa's broader economic growth fortunes," the report added.
Also showing unfavourable movements were general agricultural conditions that dropped eight points to 86, but remained strongly in positive sentiment territory, and volume of exports that declined four points to 56.
The report called this decrease surprising, given that higher export volumes of South African agricultural produce were expected for 2021. It was suspected that Q1 2021 COVID-19-related lockdowns in some European countries may have led to this reduced positivity.
Commenting on the results, Agri SA's agricultural economist, Kulani Siweya, said that while South Africa's broader economy remained "uninspiring", the latest index reinforced that the country's agriculture sector was still "a beacon of hope" with a positive outlook.
He cautioned that COVID-19's international impact remained a risk for South Africa's agricultural exports, and that the nation's farming sector continued to face headwinds from the likes of increasing minimum wages and costs of other key inputs.
"We have maintained that the agriculture sector is one area that could significantly make a dent in unemployment numbers. The policy environment just needs to come to the table. Nonetheless, the outlook remains broadly positive for the sector; promising another great year as we learn to work around the pandemic […]," said Siweya.