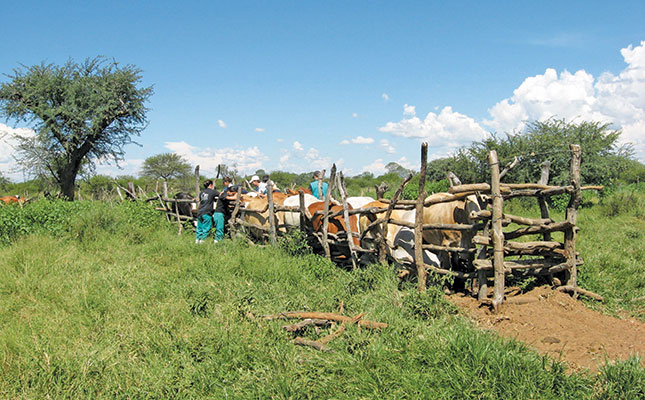 South Africa has only about half the number of veterinarians it needs, which gives those who are practising less of a voice when they speak out about the lack of vaccines and adequate support for rural farmers.
This was according to DA MP Noko Phineas Masipa, who sits on the Portfolio Committee on Agriculture, Land Reform and Rural Development. Speaking to Farmer's Weekly, he said:
"Biosecurity is just as important as self-sufficiency with regard to food security."
Prof Vinny Naidoo, Dean of the Faculty of Veterinary Sciences at the University of Pretoria, told Farmer's Weekly that South Africa needed at least 100 veterinarians per million people.
"This would translate to about 6 000 vets. At the moment, we have about half this number registered in the country."
Dr Florence Nherera-Chokuda, CEO of the National Emergent Red Meat Producers' Organisation, confirmed this figure, and said there was currently about one veterinarian for every 800 small-scale livestock farmers.
"We have a particular problem in communal areas. Farmers often have to make their own diagnoses, as there's such a shortage of animal health assistance."
Naidoo said the problem centred not only on numbers, but on where veterinarians chose to work.
"Because the state doesn't provide subsidised care to the same level as it does in human health [since state veterinarians are more involved in disease control than therapeutic management], veterinarians need to charge for their services."
This was a problem, as few rural and developing farmers could afford the expense of veterinary care.
"We also need to understand that the cost of the animal may not warrant care," he added, saying that it was not necessarily cost-effective for a veterinarian to travel to a remote area.
The cost of medical and professional time might also not be feasible when small numbers of animals were managed.
"We need to consider that the veterinary practice needs to support all its costs: rent or loans for buildings and/or vehicles, equipment, medication, support staff salaries, student loans, and their own salary generation. This all adds to the veterinarian's fee.
"If the community can't afford the fees, veterinarians can't afford to work in the area and offer quality services. All in all, this drives veterinarians to work in more developed areas where the economy can support [these] services."
Nherera-Chokuda said that due to the shortage of animal health specialists, farmers also struggled to access medicine.
"Medicine is very expensive and not readily available. Farmers need to be able to help themselves, and government needs to put the right infrastructure in place to create an enabling environment. Only then will vets be able to come in and do their jobs."
Masipa added that it was important to strengthen the voice of veterinarians with regard to vaccines. "Vets aren't making a loud enough noise at the moment [when it comes to the shortage of vaccines]."
Plan to improve animal health
Naidoo said there were several things that could be done to make South Africa's veterinary care more efficient. First, government needed to ensure that all Compulsory Community Service (CCS) veterinarians had the facilities, medicine and travel kilometres assigned to render therapeutic services.
"No CCS vet should [end up having to do] paperwork or other activities because there's no state budget to care for animals."
Second, government needed to implement a subsidy for private veterinarians working in rural areas. "This would allow vets to open practices in areas where it would otherwise be prohibitively [expensive] to make a living."
Government also needed to consider opening more state-run veterinary clinics, rather than mobile ones, to ensure daily service delivery in areas that did not have private veterinarian support.
"These facilities need to be run by both CCS and senior vets, because the former are still very junior."
Finally, Naidoo said, rural farmers needed to be adequately trained to farm livestock. "Farming is a science and we need to treat it as such."