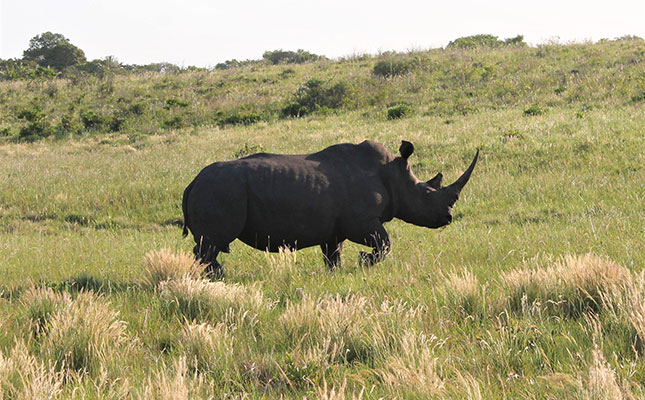 Despite facing similar threats to their animals from poachers than their government counterparts, South Africa's private white and black rhino owners have been able to do a good job of protecting and even growing the country's populations of these endangered species.
This was according to Pelham Jones, chairperson of the Private Rhino Owners' Association (PROA), who said that a survey found that as at 31 December 2020, the country's privately owned white rhinos numbered over 8 000, and privately owned black rhinos 450. This amounted to over 50% of South Africa's total rhino population.
READ Farmers say 'not worth their while' to report stock theft
"Of the 594 rhinos poached nationally in 2019, only 15% were in private reserves. The rest were in the Kruger National Park (KNP), other national parks, and in provincial parks. The private sector gets no funding to protect its rhino, but the national and provincial parks get funding from government, and from international and national donors," Jones told Farmer's Weekly.
"South Africa's private rhino owners are dealing with the same onslaught from poachers, but have had to keep paying for protection for their rhinos despite not being able to generate income from international tourism and hunting because of the COVID-19 travel restrictions, and a severe decline in game sales. They are losing billions of rand. Our private rhino owners are unsung heroes; getting no recognition from government," he added.
On Monday, 1 February, the Department of Environment, Forestry and Fisheries (DEFF) released information indicating that South Africa lost 394 rhinos to poachers in 2020. This was, according to DEFF spokesperson, Albi Modise, 33% fewer than the 594 rhinos poached in 2019, and the sixth consecutive year that rhino poaching in the country had continued to decrease.
South Africa saw a marked decline in #RhinoPoaching during 2020, with the killing of #rhino declining by 33%. #wildlifeconservation

Read more here👉👉https://t.co/WbKfeC5Ajo pic.twitter.com/HdSw60iYwC

— Environmentza (@environmentza) February 1, 2021
"During the COVID-19 hard lockdown period, we had a significant reduction in poacher incursions into the KNP. However, that changed later in the year as the lockdown levels eased, and a significant spike in poaching in the KNP was experienced towards the end of 2020, especially during December," he said.
DEFF's information showed that, in 2020, 245 rhinos were poached in the KNP, and two in the Marakele National Park.
READ Is rhino breeding a potential gold mine for cattle farmers?
The Minister of Environment, Forestry and Fisheries, Barbara Creecy, said: "While the extraordinary circumstances surrounding the battle to beat the COVID-19 pandemic contributed in part to the decrease in rhino poaching in 2020, the role of rangers and security personnel who remained at their posts, and the additional steps taken by government to effectively deal with these and related offences, also played a significant role."
Modise said to move from the "current moderate win to a strong win" with regard to reductions in annual rhino poaching statistics, government was focussing on a more proactive and integrated approach. This would build on existing initiatives and also "blur the distinction" between national, provincial and private parks when it came to collaborative efforts to protect their rhino populations".
In addition, according to Modise, South Africa's law and environmental authorities had increasingly collaborated to more effectively apprehend and prosecute rhino poachers.
"Countries working together in sharing of information and investigations to combat wildlife trafficking remains a key to […] success […], even in this difficult time of COVID-19," he said.