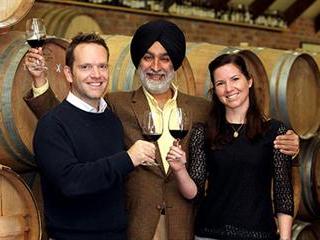 Their aim from the outset was to produce a select portfolio of hand-crafted wines from the granite and shale based terroirs of the Swartland, and the winery has already won numerous national and international awards.
Now New Delhi entrepreneur Analjit Singh has invested in the winery through acquiring the shares of one of its partners.
Chris Mullineux told Farmer's Weekly the joint venture marked Singh's first investment in the wine industry. "Keith Prothero was looking to sell his shares and through a mutual acquaintance we found out Singh was looking to invest in the SA wine industry, so we approached him."
Mullineux said Singh had tasted their wines on previous visits to SA and liked it very much. Chris and Andrea, said Singh in a press statement, "bring the passion, quality and focus that's essential to be 'best in class', which is a prerequisite for anything we are involved in."
Mullineux said the partnership with Singh would most likely pave the way for Mullineux & Leeu Family Wines to start exporting wine to India in the near future.
Wine exports from SA to India increased at a rate of about 40% over the past 12 months from 100 000 litres sold between October 2011 and September 2012, to roughly 140 000 litres sold between October 2012 and September 2013, according to the South African Wine Industry Information and Systems.
Twitter: @agri_erasmus