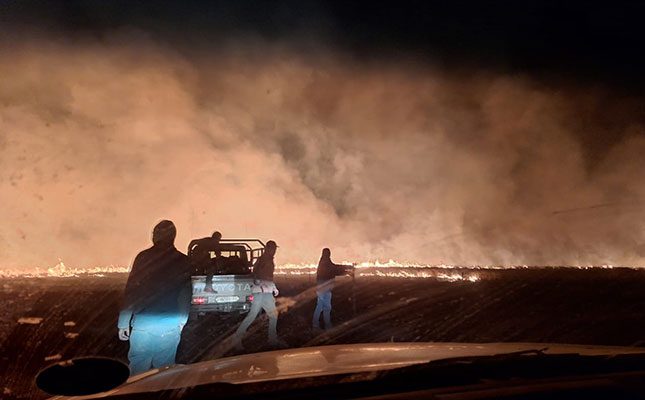 According to Dr Jack Armour, FSA commercial manager, indications were that at least 30 000ha were destroyed in the fires that occurred in the vicinity of Winnie Mandela, Soutpan, Boshof and Dealesville.
Earlier, some 20 000ha were lost to veldfires that occurred in the districts of Zastron and Ficksburg.
Armour said while a snap survey would be conducted today to access the immediate needs of landowners and farmers and to determine the extent of the fires, a detailed calculation of the damage and the cause of the fires would follow in the next three days.
"The fires were put out by midnight on 27 August 2023, following changes in the weather and the cessation of very strong winds. At the moment we desperately need animal feed and support to transport the feed to the affected areas. Hundreds upon hundreds of livestock are left on the scorched land without food. Members of the public wanting to support the fire affected farmers can find FSA's banking details on our webpage, namely vrystaatlandbou.co.za," Armour said.
Johan Breytenbach, general manager of the Free State Umbrella Fire Protection Association, told Farmer's Weekly that the victims of the fires were assisted by, among others, the National Council of Societies for the Prevention of Cruelty to Animals, the South African Police Service and various fire protection association teams.
Breytenbach warned as early as May this year that the 2023 veldfire season in the Free State could potentially become one of the most challenging in recent years because of, among others, exceptionally high fuel loads and the effects of the expected El Niño weather pattern.
"The Free State lost 745 000ha to fires in 2021. The conditions in 2021 were very similar to this year's conditions, including a very high vegetative fuel load. Extreme caution by everybody is called for to prevent any further carnage caused by veldfires," he said.