The Baynesfield Training Academy (BTA), a joint venture between the South African Pork Producers' Organisation (SAPPO) and the Joseph Baynes Trust, will become SAPPO's training hub for developing pig farmers. "This is an answer to the real need to educate aspiring pig farmers," said Barry Gibbs, chairperson of both the KwaZulu-Natal Pork Producers' Association and the BTA board.
"The industry needs to grow to provide top quality pork. The academy will provide the grounding for this to happen." The BTA was developed out of an existing but dilapidated piggery, which was revamped at a cost to SAPPO of R4,5 million, funded by pork farmers through SAPPO levies. Industry sponsors donated equipment, feed and pigs, and Big Dutchman Germany supplied equipment.
Training will be managed jointly by SAPPO and the trust and will cover all aspects of pig production, from practical knowledge of pig farming to business and management skills. "The focus is on developing sustainable, viable pig farmers. A 100-sow piggery will be run as a commercial unit according to best practices, and these will then be passed on to students," said BTA general manager Grant Kobus.
Week-long short courses will be offered to all manner of learners, from pig farm owners and managers to labourers, extension officers, students, the agricultural sector and the public. "A maximum of 10 to 12 learners are allowed on a course, so we should train 400 to 500 people a year. The idea is not to push numbers but to provide quality training," said Kobus.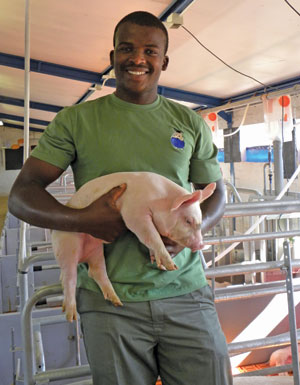 Ndumiso Gule, piggery assistant at the newly opened Baynesfield Training Academy. Photo by: Robyn Joubert
The facility will be offered to companies to run trials on animal health or feed products and for farmers' days. SAPPO chairperson Peter Mockford said that if the BTA worked out as envisaged, more such facilities would be set up across the country. Training is the main focus of SAPPO's development programme for new producers. Farmers who are on the brink of becoming commercial producers receive intensive mentorship while commercial farmers receive focused attention, with SAPPO paying provincial pig veterinarians to make regular visits to these units.
Qeda Nyoka, co-ordinator of SAPPO's developing farmer projects, said that the number of successful development projects was flourishing under SAPPO's care. "There are about 20 developing projects in KwaZulu-Natal, North West, the Western and Eastern Cape, and Gauteng that are already able to sustain themselves and meet all SAPPO's requirements. Some even make a profit," he said.