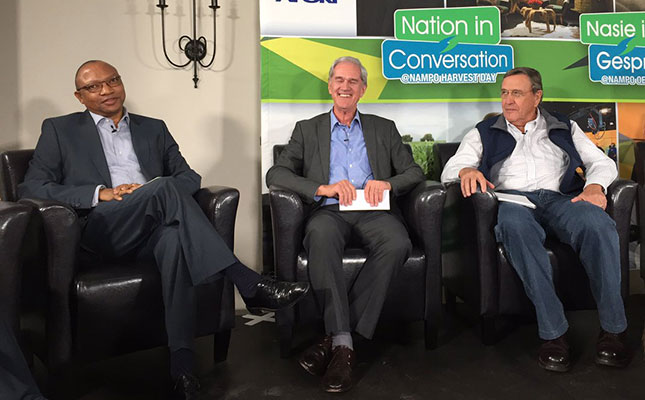 This was according to TP Nchocho, the CEO of the Land Bank, who was speaking at the launch of the Nation in Conversation panellist discussions at Nampo Harvest Day 2017 in Bothaville in the Free State.
Milaan Thalwitzer from the Bosveld Group, which assisted emerging farmers through a number of programmes, said that there was currently very little contact between black and white farmers or business people, and that these groups needed to engage with each other.
Thalwitzer said that some emerging farmers the Bosveld Group had previously assisted now owned their farms and were fully commercial.
"Farmers need to think of ways to assist emerging farmers, like, for instance, leasing land from communities, [as it is] a win-win situation for all. Ninety percent of commercial farmers are keen to get involved in partnerships," Thalwitzer said.
READ Exciting line-up at Nampo
Roelf Meyer, former minister of defence and currently head of the In Transformation Initiative, said that South Africa needed to define land reform and why it was needed by the country.
"In my mind, land can only mean something if it has commercial value and if it can be exchanged for security," Meyer said.
Across Africa, there were small-scale farms that were operated on a collective basis and were successful, Meyer said.
Mike Mlengana, director-general of the Department of Agriculture, Forestry and Fisheries (DAFF), said that the profiles of potential farmers and their abilities to utilise land had to be understood before they were given land.
"The failure to do so have brought us to where we are. The lack of title deeds for black commercial farmers is sad. One will never invest in something that is not yours," Mlengana said.
Steven Grootes, a presenter at radio station 702, said that South Africa needed the symbolic redistribution of land, as people were removed from that which had once provided them with wealth.