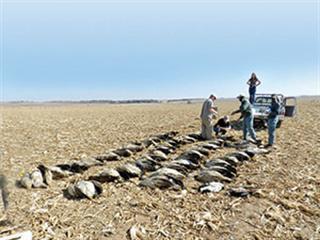 The animals were allegedly found on New Hope farm in the Swartberg region of KwaZulu-Natal. "It's time for individuals who deliberately transgress conservation laws to experience the harshest possible penalties available. It's also time to call for the expropriation of property of individuals who are found guilty of these heinous environmental crimes," said Verdoorn.
Several sheep carcasses were suspected of being intentionally laced with the agrochemical carbofuran to control jackal predation on new-born lambs. The plan backfired and only one jackal was killed. The poisoning would put added pressure on the survival of the endangered bird. There are only about 8 000 Cape vultures left in the wild.
Verdoorn said it was a criminal offence to poison animals other than rodents and to use an agrochemical or pesticide for any purpose other than that stated on the label. The Department of Agriculture, Forestry and Fisheries needed to update Act 36 of 1947, as the maximum penalty for people guilty of offences with agrochemicals was R1 000 or two years' imprisonment, or both, according to Verdoorn.
The Endangered Wildlife Trust (EWT) said the farm was believed to be in a trust linked to the family of Gary Porritt, who was a successful East Griqualand farmer until his estate was liquidated in 1986. Frank Cohen, an attorney who has represented Porritt on a number of cases, said Porritt did not own any land himself; it was held "in a number of trusts over a widespread area". Cohen said the Porritts were trying to ascertain "what happened and where".
The Porritt family released a statement saying the deaths of the vultures on their land was of enormous concern and they were determined that such an event would not be repeated. SPCA volunteer inspector Doug Wolhuter said that once the identity of the culprits had been established, charges would be laid under the Animal Protection Act.
Tim Briscoe, a retired Underberg farmer, said there were many ways of dealing with jackal predation other than poisoning. "Vultures are exceptionally vulnerable to poisoned baits and if you put out a poisoned carcass, this is what happens. This is horrific," he said. Unsafe power lines and muti, the traditional medicine market, have also taken their toll on vulture populations.
André Botha, manager of the EWT's Birds of Prey programme, said poisoning was particularly prevalent in KZN as body parts were used for muti. "At the current rate of illegal harvest of vultures for the muti market, certain species of vulture may become extinct in the province within the next five to 10 years."
Meanwhile, another seven dead vultures have been found on a neighbouring farm. "How many others are lying dead that we don't know about? It's likely that the impact is far greater than originally thought," said Botha.