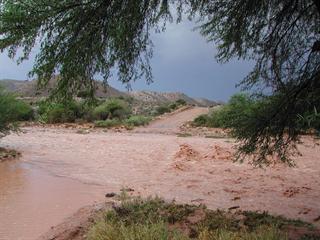 Two farmers in Laingsburg lost their onion and carrot seed crops, while another reported that 7 000 apricot and peach trees were washed away.
Fruit farms in Montagu, Barrydale and Bonnievale suffered hail damage and will be sending what is left of their dry fruit crops to juice factories instead.
"At this stage we're focusing on disaster management and just taking stock of what's happened. Many farms have been cut off and we have to arrange helicopter rescues as well as food parcels," said Agri Wes-Cape CEO Carl Opperman.
He said flooding in Laingsburg was so extreme one farmer had to walk over the mountain on his farm to get to town to make emergency phone calls as the access roads had been washed away.
The Floriskraal dam in Laingsburg was at 118% capacity on Friday morning (10 January). The Moordenaarskaroo area and parts of Laingsburg were without electricity as pylons had collapsed and Eskom could not reach the areas to repair them.
One farm in the Ouplaas district of Bredasdorp recorded 77mm over the past week, while other farms in the area recorded over 100mm. Rainfall of 135mm was reportedly recorded on one farm outside Napier.
The SA Weather Service (SAWS) statistics show that Montagu received 128mm of rain over two days this week; Swellendam received 267mm; and Tygerhoek 143mm.
SWAS said that no more rain was forecast for the Western Cape for the weekend.