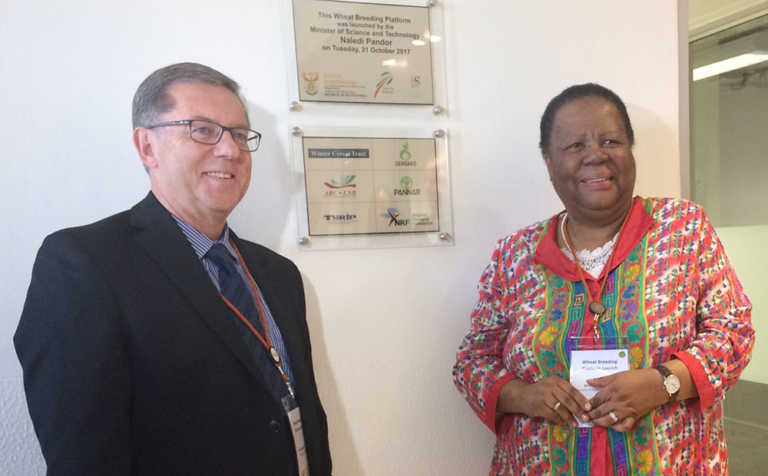 The aim of the WBP will be to assist South African farmers to increase their wheat yields and profitability.
Speaking at the launch, Dr Marinda Visser, Grain SA's manager of research, said a serious decline in hectares planted to wheat had been observed.
"Since the late 1990s, wheat production has declined sharply, from over a million hectares, to less than 500 000ha during the last planting season." She attributed this decline to economic factors as well as climatic conditions, among others.
The WBP would draw on expertise from both the public and private sectors to stem this decline in production and achieve a sustainable increase in wheat productivity, she said.
Pandor emphasised the value of cooperation between the private and public sector.
"Farming in South Africa is facing a crisis as we have never had to import food before. The Wheat Breeding Platform, a public-private partnership, is an important sign that [the country is] responding to this crisis."
She added that this platform would also reduce inequality.
"The Wheat Breeding Platform will provide smallholder farmers with access to seed technology to enhance yields, productivity, income and growth opportunities. All farmers will [thus] have access to the latest technology, thereby levelling the playing field," she said.
The national WBP, which was established in 2014, has now been formalised, expanded and funded to include Stellenbosch University's Plant Breeding Laboratory's (SU-PBL) wheat pre-breeding programme.
The Agricultural Research Council's Small Grains (ARC-SG) pre-breeding group had also been included this year.
Funding comes from the Department of Science and Technology and the Winter Cereal Trust, and is facilitated by Grain SA's Grain Research and Policy Centre.