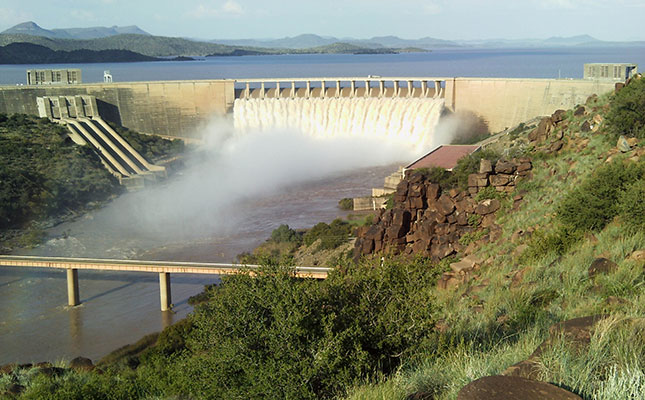 Widespread rain over the past few weeks have significantly pushed up dam levels across the country, according to the Department of Water and Sanitation (DWS).
The national average level of South Africa's dams was at 85,4% of capacity compared with 61,8% for the corresponding period in 2020.
"The Gariep Dam is over 112% full, while the Vanderkloof Dam is at about 111% full," said DWS spokesperson Sputnik Ratau. He added that the Vaal Dam was 101% full.
While full dams brought reassurance of maximum water quotas for the irrigation season ahead, Nicol Jansen, president of Agri Northern Cape, warned that overflowing dams could cause flooding.
"When dam levels increase to [over] 114%, there is huge overflow that causes flood situations as recently witnessed in the lower Orange River area," he said.
In Keimoes, for example, a flood protection barrier broke and caused the flooding of vineyards, lucerne and cotton lands and pecan nut orchards. According to Jansen, most flood barriers were destroyed during a flood in 2011.
"After this flood, a great effort ensued to repair these flood barriers. About R1,2 billion was allocated by Tina Joemat-Pettersson, former minister of agriculture, for the repair of these flood barriers. However, a decade later, this process [is] still not completed because part of the allocated money [is] no longer available," explained Jansen.
He said that the Orange River was currently under severe pressure due to the large amounts of water flowing through the Orange River system.
"In the Keimoes area, unfinished flood barriers could no longer withstand the mass amount of water. There were also areas that did not have flood barriers while some restored flood barriers simply gave way under the mass amount of water. This led to tremendous flood damage," Jansen said.
According to Clayton Swart, communications manager at the South African Table Grape Industry, table grape producers in the area suffered immediate damage, which included damage to infrastructure and water pipes, as well as physical damage to vineyards.
"However, the actual impact of the flood is uncertain as the long-term damage will only be visible next season."
Jansen said the amount of rain over the next two months would determine whether there would be further floods.
"We are very concerned about large precipitation that could occur in a short time that could cause the Orange and Vaal rivers to flood, which could then create a very worrying situation for the lower Orange River."
Meanwhile, in the Western Cape, dam levels across the province were dropping marginally, which was normal for this time of the year. Water levels in the Eastern Cape, and areas in KwaZulu-Natal, Limpopo and North West remained of concern, the DWS said.