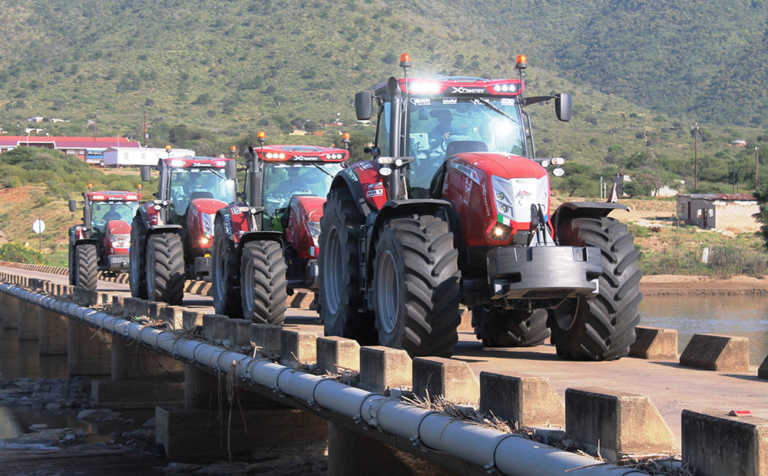 The ambitious 2018 XTractor Expedition aims to drive four McCormick X7 and X8 series tractors, on 16 BKT tyres, over 6 000km across South Africa.
The adventure is edging closer to its final destination in Gauteng. Having left Cape Town on 2 April, the expedition has completed more than three-quarters of its approximately 49-day journey primarily aimed at documenting South Africa's people, natural beauty, agricultural sector and geography, and then showcasing this to the world via the XTractor.tv docu-reality programme and other media.
Farmer's Weekly recently travelled with the expedition for five days across parts of KwaZulu-Natal, from Pietermaritzburg to iSimangaliso Wetland Park.
The 16-person team of predominantly Italian drivers and their support crew said so far along the route the high-tech tractors had experienced no noteworthy problems, nor had the BKT Agrimax IF and Agrimax RT tyres suffered any punctures or other faults.
Expedition coordinator, Francesca Boggio Robutti, said that while the expedition had been unable to traverse Lesotho and Swaziland due to challenges with obtaining the legal paperwork allowing the tractors into these two countries, the expedition had still been able to drive up and down South Africa's challenging Sani Pass with no problems.
Boggio Robutti, who was part of the 2017 XTractor Expedition across Australia, said that since beginning the expedition in South Africa she had been entranced by the wide diversity of sights and other experiences contained within the country's borders.
"In the Australian Outback we drove for hundreds of kilometres on flat and straight roads, and the scenery hardly ever changed. In South Africa, the scenery is always changing. We never get bored of looking out the vehicle windows," she said.
In addition to visiting iSimangaliso, where they were able to see wildlife, including rhinos, hippos and crocodiles, other highlights for the team included driving through the Western Cape winelands and the Northern Cape's Kalahari Desert, visiting the world-famous Augrabies Falls, and interacting with farming communities at various stops.
The #XTractorExpedition is on Day 27 of 50, having covered about 4 500 km of the 6 000 km target. The team is having a well-deserved break in Howick, KZN, today before heading to Dalton tomorrow. I'll be with the expedition for the next 5 days. Awesome! @FarmersWeeklySA @BKTtires pic.twitter.com/TaS8E4DwMR

— Lloyd Phillips (@PhillipsLM) April 29, 2018
I've just met the 'Famous 4' McCormick tractors that are travelling across SA as part of the 2018 #XTractorExpedition. They're beautiful! Can you believe that these BKT tyres are still in such excellent condition after 4 500 km of gravel & dirt driving? Next stop: Dalton. pic.twitter.com/bP2j9bJ5Du

— Lloyd Phillips (@PhillipsLM) April 30, 2018
The #XTractorExpedition has 4 McCormick tractors & 4 supporting Toyota Hiluxs. I think that Wartburg's diesel supply is now depleted ? pic.twitter.com/XnEHK3mOkk

— Lloyd Phillips (@PhillipsLM) April 30, 2018
After 10 hours on the road today the stars of the #XTractorExpedition arrived at Monzi/St Lucia for some well-deserved TLC & a good cleaning ahead of a farmers meet & greet on Thursday afternoon. The expedition's human members are going to explore @iSimangalisoZA Wetland Park ? pic.twitter.com/DcrUer7jly

— Lloyd Phillips (@PhillipsLM) May 1, 2018