The Cleaver Awards were launched in 2005 to meet the needs of the consumer by raising standards amongst butcheries. Initially 2 500 entries were received in the inaugural Cleaver Awards, with this figure steadily increasing every year. A record 21 865 nominations were received in 2011, over 4 500 more nominations than in 2010. This is evidence enough that these Awards have grown in popularity, both amongst consumers and butcheries countrywide.
Furthermore, of the 165 butcheries audited again a 212 point checklist, certain National and Regional winners exceeding 96%. The 212 point checklist was used to independently assess all of these finalists, and was based on criteria such as in-store hygiene, supplying quality assured roller marked SA Beef, offering the best advice as to meal preparations and cost effective ways of buying the best cuts.
Butchers were judged according to three categories namely;
1. Butcheries with four or more till points,
2. Butcheries with three or fewer till points and,
3. Food market / Supermarket butcheries
Consumers today have less time, more to do, and are more discerning in their purchases and have a greater variety of meal solutions. The butcher and his team are the final interface with consumers for their meat requirements, and play a vital role.
"The standards of excellence amongst South African butcheries keep increasing year on year. These awards successfully assure the consumer that they can purchase South African Beef with confidence. Consumers are becoming more educated about what to expect from their butchers and are giving credit to those butchers who are exceeding their expectations," says Dave Ford, Chairman of the South African Red Meat Industry Forum.
Nominations were opened towards the end of last year for consumers around the country to vote and nominate their best butchery.
First prize winners in each national category received a R 20 000 cash prize and a Platinum Trophy Award. The runners up received a R 10 000 cash prize as well as a Gold Cleaver Award Trophy. All of the provincial winners received either a Platinum or Gold Cleaver Award Trophy in their category. Three consumers who nominated the three National Platinum winners each received a voucher for a R1 500 hamper of beef products from the winning butcher.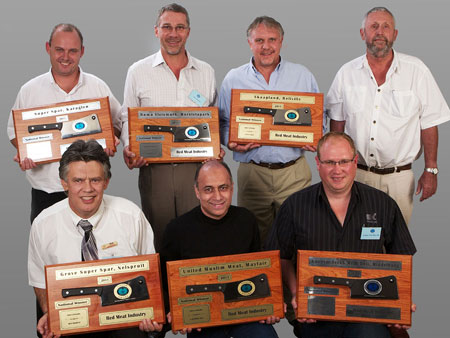 National Winners.
Up to 3 tills.

1. Kanhym Fresh Meat Deli, Middelburg Platinum
2. Skaapland, Bellville Gold

4 and more tills.

1. Boma Vleismark, Moreletapark Platinum
2. United Muslim Meat, Mayfair Gold
Food Markets.
1. Super Spar, Karaglen Platinum
2. Grove Super Spar, Nelspruit Gold
Gauteng
Up to 3 tills
1. Ziman Meats, Randfontein Platinum
2. Wierda Park Butchery, Wierda Park Gold
4 and more tills.
1. Seeman`s, Strydom Park Platinum
1. Berliner Grill & Deli, Northriding Platinum
2. Butcher Boys, Vanderbijlpark Gold
Food Market
1. Uitkyk Vleismark, Silverton Platinum
2. Angelo Super Spar, Nigel Gold
North West
Up to 3 tills
1. Uitkyk Slaghuis, Lichtenburg Platinum
2. Impala Vleis, Brits Gold
4 and more tills.
1. Goudkopslaghuis, Klerksdorp Platinum
Limpopo
4 and more tills.
1. Vleislapa Marshalstr, Polokwane Platinum
2. Vleislapa, Groblerstraat, Polokwane Gold

Mphumalanga
Up to 3 tills.
1. Alan`s Butchery, Ermelo Platinum
2. Frank`s Meat, Middelburg Gold
Food Market
1. Crossing Spar, Nelspruit Platinum
2. Saveway Super Spar, Witbank Gold
Free State
Up to 3 tills.

1. Sparta Butchery, Welkom Platinum
2. Koepel Slaghuis, Parys Gold
4 and more tills.
1. Fredilla Meat, Welkom Platinum
Food Market.
1. Pick & Pay Prellerwalk, Bloemfontein Platinum
2. Checkers Langenhovenpark, Bloemfontein Gold
Northern Cape
Up to 3 tills.

1. West End Vleismark, Kimberley Platinum
2. Smitties Quality Meat, Kuruman Gold
Eastern Cape.
Up to 3 tills
1. Impala Meats, East London Platinum
2. Merino Slagtery, Port Elizabeth Gold
4 and more tills.
1. Crave Meats, East London Platinum
Food Market
1. Newton Park Super Spar, Port Elizabeth Platinum
2. Our Super Spar, Walmer, Port Elizabeth Gold
Western Cape
Up to 3 tills.

1. Tollies Slaghuis, Hartenbos Platinum
2. Stilbaai Slaghuis, Stilbaai. Gold
4 and more tills.
1. Excellent Meats, Rylands Estate Platinum
Food Market
1. Super Spar, Malmesbury Platinum
2. Pick & Pay Cape Gate, Brackenfell Gold
KZN
Up to 3 tills.
1. Dirks Davenport, Durban Platinum
2. Grobbies Butchery, Bluff, Durban Gold
4 and more tills.
1. Bluff Meats, Bluff, Durban Platinum
2. Michael Frey`s Fresh Meat, Port Shepstone Gold
Food Market.
1. Checkers Hyper Pavilion Mall, Westville Platinum
2. Pick & Pay, Shelly Beach. Gold
Issued on behalf of the Red Meat Industry by The Write Agency
Contact Leigh Hopewell on (011) 467 5368/ 083 264 6563 or at [email protected]