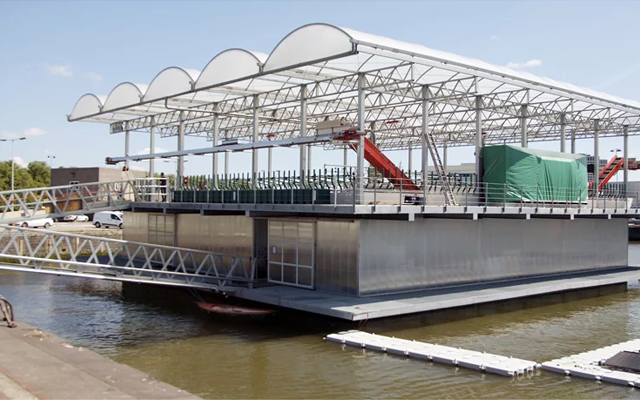 Thirty-two cows recently boarded the world's first floating farm in the Port of Rotterdam in the Netherlands.
The project was the latest in an urban trend focusing on sustainable food production and bringing urban dwellers face-to-face with the origin of their food.
The project also sought to address the issue of feeding a growing population with limited land space, according to Dutch property company Beladon that owns the farm.
Milk from the farm would be processed into dairy products, while plans were afoot to use the manure produced as fertiliser for the city's plants, gardens and parks.
Facilities on the floating farm included a spacious shed for the cows with large stalls, a milk robot, a slurry robot, an automatic belt feeder, and a rubber floor.
A bridge between the farm and the dock would allow the cows to have access to an adjacent pasture, a report on the company's website said.
The structure was as self-sufficient as possible and made use of floating solar panels that provided all energy needs, while a rainwater capture mechanism on the roof would both collect and purify the water.
The cattle's feed would be sourced from the city, and would be as sustainable as possible and would include brewers' grains, bran, potato scrapings, as well as grass from sports fields and golf courses in the city.
The key aim of the floating farm concept was to shorten the transportation time of food from where it was produced to consumers, thereby reducing food losses and minimising pollution stemming from transportation, the report said.
It is expected that the dairy products to be produced on the floating farm would be supplied to local grocery stores in and around Rotterdam.
"We believe that building on water is the way ahead in a country with a changing climate and ever-increasing urbanisation. Floating farms are the perfect scalable solution for cities such as Rotterdam, with a lot of space on the water," according to Peter van Wingerden, project initiator at Beladon.