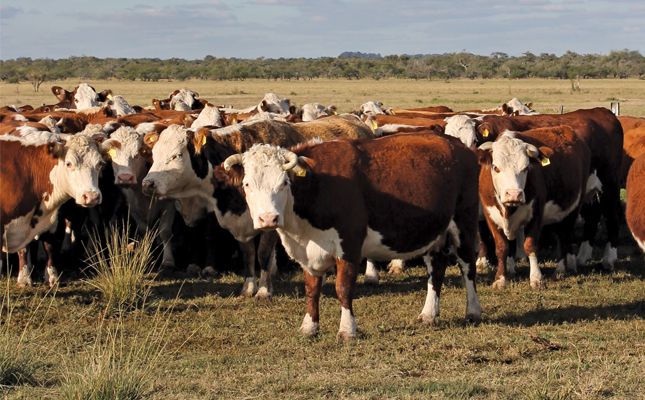 Beef cattle ranchers in Argentina are culling their breeding cows at the highest rate in 30 years, in an attempt to keep their farms afloat as they struggle to access credit.
The country's high interest rates, set daily by the central bank, has helped to bolster the local currency, but has limited access to credit, especially for small businesses and farmers.
This trend of culling breeding cows highlights the pressure that Argentinian farmers are facing due to the "tight monetary policy", according to Carlos Achetoni, president of the industry association, Argentine Agrarian Federation.
The country's central bank has set the benchmark interest rate at more than 60% in an attempt to rein in stubborn inflation.
The beef sector relied on "upfront investment to maintain valuable cow herds and rear calves to maturity", and was trying to maintain liquidity through these cow sales, as they were the main source of financing, Achetoni said.
In the first half of the year, female animals represented 50,1% of all slaughtered animals, according to a statement by Argentina's meat industry chamber, CICCRA.
This number was the highest it had been in the past three decades, with the maximum sustainable rate being around 43%.
If this trend continued, the Argentinian herd-size could decrease by 400 000 head of cattle by 2020 from a total of around 53 million in March.
"It's a survival decision," said Miguel Schiaritti, president of CICCRA, who emphasised that ranchers had to prioritise short-term survival by selling off their assets as they were unable to borrow funds at the current interest rates.
Argentina had also increased beef exports to China in the past year, with shipments in the first five months of this year representing 72% of that country's total 180 000t of beef exports, according to CICCRA.
The Chinese market mainly demanded cheaper cuts of beef from female cows, which had boosted prices 88% in the past year.
The increased quota of meat exports to the EU in accordance with the Mercosur trade deal between the South American Mercosur trade bloc and the EU agreed recently was, however, not expected to ease the problems facing Argentinian farmers.
"The agreement is just pain relief really," Schiaritti said.