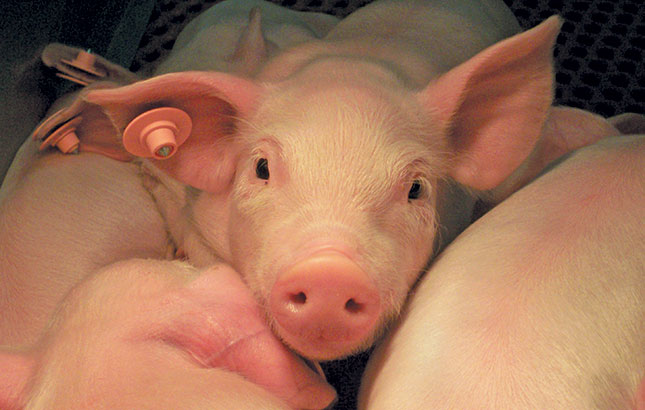 Chinese pig producer Muyuan Foods grew its profits by 1 413% in the first nine months of 2020 to 21 billion yuan (about R48 billion), after the company started operations at the first of 21 buildings on its new pig farm in Neixiang county, Henan province, during September.
Construction on the site started in March, and the company aims to raise the highest number of pigs on a single site in this automated industrialised breeding facility.
The farm will eventually house 84 000 sows and their offspring, and is by far the largest in the world, roughly 10 times the size of a typical US pig operation. It is hoped that the farm would ultimately produce around 2,1 million pigs a year, according to Reuters.
"We have hit a very favourable period for development. Pig prices are very high, our profits are really good, and cash flow is really ample," Qin Jun, Muyuan's vice general manager, told Reuters.
Muyuan Foods will spend about 40 billion yuan (R91,75 billion) this year on its new pig farm, Qin said.
The new development was an example of the large-scale farming facilities that were replacing small, traditional farms in the region, many of whom were struggling to stay in business due to new, costly disease-prevention requirements.
China's pig herd (the largest in the world), suffered severely in 2019, when diseases such as African swine fever (ASF) almost halved its numbers, resulting in a 11 million ton pork shortfall in that country.
Quin revealed that the project had "an experimental element," that would, to a greater extent, make use of technology to increase cost-effectiveness and decrease risk.
"We will employ fewer people and use more technology," he said, describing the "intelligent" feeding systems, manure cleaning robots, and infrared cameras able to detect when pigs developed a fever.
Although the mega-scale farm was able to house five times as many pigs as a regular farm, some international industry experts expressed concern about the risk associated with diseases including ASF and swine influenza.
"Large farrow-to-finish projects with high animal density are a long-term concern because once a pathogen enters, it's very difficult to control or eliminate," said Gordon Spronk, chairperson of Pipestone Holdings, a Minnesota-based pig producer and veterinary services company in the US.
The company reported that it had overhauled its production process since the most recent African swine fever outbreak.
Grain for feed was being sterilised before being piped into the on-site feed mill from outside, avoiding possible contamination of the farm by delivery trucks, he said.
Inside the pig housing, air was being filtered, and thermal imaging cameras were being trialled to monitor pigs' temperatures.