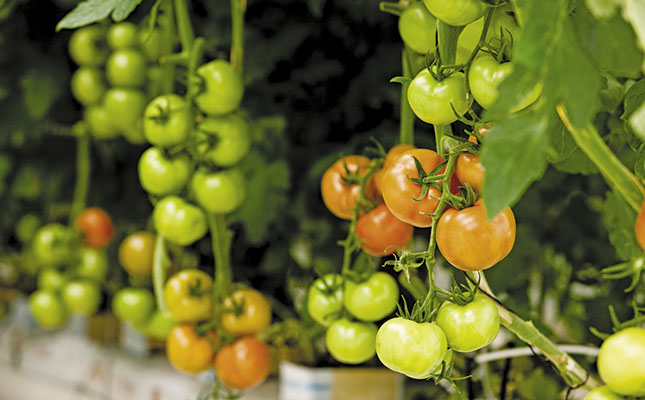 Active substances extracted from plant, bacterial, viral and fungal sources are increasingly used in crop pest management and plant health. Known as biologicals, these substances assist with problems that may arise when pests and diseases develop resistance to chemical control. They also help to meet the rising demand for residue-free food.
READ MORE: Biological control of aphids
During the last century, chemical fertilisers and pesticides had an enormous impact on crop productivity and quality. This is according to plant pathologists Kamal Krishna Pal and Brian Gardener, in a paper in the Plant Health Instructor dealing with biological control on plant pathogens. With tightening regulations on chemical use, and pressure to take certain agro-chemicals off the market, the potential for biological control agents is growing.

What is biological control?
Krishna Pal and Gardener describe biological control as "the suppression of damaging activities of one organism by one or more other organisms". Biological products have both a living (bacteria, fungi, viruses) and non-living (biofertiliser or biopesticide) component. To put it simply, biological control is the suppression of a single pathogen by a single antagonist in a single cropping system.
Thumbs up all-round
In an article published in Agrow, editor-in-chief Sanjiv Rana writes that larger agro-chemical companies moved swiftly to become involved with biocontrol businesses. The Europeans were first in 2012, with BASF acquiring US speciality products company Becker Underwood for $US1,1 billion (R11,7 billion), Bayer Crop Science buying both US biopesticide company AgraQuest for US$430 million and German biopesticide company Prophyta for US$100 million, and Syngenta buying US biopesticide company Pasteuria Bioscience.
Last year, USA-based Monsanto acquired US agricultural biotech company Agradis, and formed a partnership with Danish bio-business, Novozymes. In addition Monsanto supported the establishment of US company, Proceres. According to Monsanto, research and development investment in agri-biological techniques can provide sustainable alternatives of meeting demand and give farmers the opportunity to use biologicals more widely.
Other manufacturers are equally enthusiastic about the potential for biocontrol products, according to Rana. BASF's senior vice- president of functional crop care, Juergen Huff, says that innovation potential ranges from seed treatment to wider use in row crops. Dr Pamela Marrone, CEO of US biopesticide company Marrone Bio Innovations (MBI), sees the entry of the multinational pesticide companies into the biological market as positive, and her view is mirrored by Ziv Tirosh, CEO of
Israeli biopesticide business, Stockton.
According to Tirosh, agriculture is a conservative business and "the big players who dominate over 80% of the crop protection market are the best and fastest avenue to create wide acceptance of biopesticides". Dr Peter Luth of Bayer CropScience adds: "Fungi and bacteria can be successful crop protection agents, while having an excellent environmental profile." Luth and his team currently focus on a fungus that helps control nematode infestation in the roots of grape vines, maize and bananas.
Farewell to chemicals? Not so fast
In his Aglow article, Rana explains that integrated pest management involving a dual chemical and biological approach
is still necessary in cases where natural controls are not available, or have not been tested and registered. He quotes
Dutch grower and manager of GreenCo, Jules Klessens, who says that his company handles tomato russet mite outbreaks chemically, as the biological control has proven elusive thus far.
"Otherwise we would be very close to being 100% chemical- and residue-free," says Klessens. Biological crop protection company Koppert is trialling zero-residue production with 50 Spanish growers on 200ha of sweet peppers, cucumbers and tomatoes. Kris De Smet of Koppert Spain explains that minimum residue levels for British and German customers permit a maximum of three active agents, but the trial work aims to grow and export produce with no residues at all.
"Many growers believe the chemical approach is cheaper, but we've seen that the zero-residue approach results in exactly the same costs in the long term," he says. Henk van der Loos of Koppert Holland says that sometimes the biological approach is more expensive, but adds: "If at all possible, [we] always opt for the biological approach".
READ MORE: Controlling the 'famine weed'
Cost plays a role in the production of biological controls, and entomologist Martin Stols of Koppert Cape Town, says the biological agents used by the company come from its production facilities in the Netherlands and Spain. "It makes more sense for us to import the bugs. We might look at local production later, but we can get quality and quantity from the Netherlands [and Spain] now."
Koppert South Africa deals with red spider, whitefly, thrips, cyclamen mite, aphid, mealybug, fungus gnat and leaf miner.
"Koppert uses only species native to South Africa, which avoids damage to the local environment," says Stols.  Prof Mark Laing of the University of KwaZulu-Natal echoes this sentiment. "A big insect population attracts its natural predators and there are containment problems," he says.
Expensive and complex production
Biological control production facilities practise strict quality control, constantly monitoring conditions for the presence of unwanted organisms. Laing and his colleague Dr Mike Morris have set up a company called Plant Health Products, which produces biological controls, in Nottingham Road, KwaZulu-Natal. Attention to the smallest detail must be unwavering, says Laing, as contamination can lead to loss of product.
The company sells biological control products in South Africa, Kenya, Zambia, Namibia and Botswana. Its product, Eco-T, contains spores of Trichaderma harzianum, a fungus able to kill pathogenic fungi that cause root diseases. Another strain of the same fungus is effective against Botrytis in tomatoes and cucumbers, and Eutypa in grapevines.
"We would like to gain access to the Brazilian market, with its bollworm problems. We keep an open mind and may look at an option to allow us to license our technology on other markets," says Laing. He explains that there is an optimal size for production units, beyond which management becomes difficult. But on the flip side, economy of scale is vital.
He stresses that bio-production facilities are expensive and difficult to set up, which is why many agents operate under licence to the corporates. All of these developments seem to support the contention of Gardener, who predicted in 2002 that through the development of innovative biocontrol strategy development, the 21st century could be the age of biotechnology.