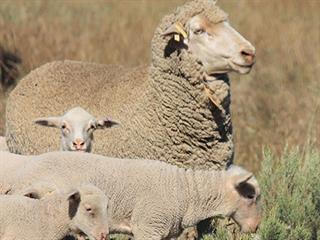 Little is known about sheep and goat farming in rural areas, whether on communal or individually owned land. This is despite the fact that it is an important farming activity. Against this background, and in line with government's policy of prioritising farming in communal areas, the Mpumalanga department of agriculture is researching the productivity of sheep and goats under various systems in different ecological zones in the province. The study, conducted with the assistance of farmers, veterinary officers and farm advisors, focuses on important economic factors such as reproduction, adaptation and production traits, all important in the production of mutton, chevon and wool.
Study sites
The sheep study was conducted at four Highveld sites in the Gert Sibande District: Mooihoek, Tweefontein, Rouxland and Athole. The vegetation is mainly grassland with some tree plantations. The veld type is largely sourveld, highly palatable at a young growing stage in spring and early summer, but losing palatability in autumn and winter.
The goat study was conducted at Seville (Lowveld), KwaMhlanga (Midveld) and Breyten (Highveld). The vegetation in these areas is well-adapted to fire, which is used to sustain the species composition and annual tiller regrowth. Hay provided roughage in winter. Maize was the main grain crop used as an energy source. Soya bean residue was an important overwintering protein source during dry winters, with winter pastures such as oats and Japanese radish also used.
READ MORE: The Nguni of sheep
Each trial group consisted of 25 ewes and one ram. The Dohne Merino, a dual-purpose breed, was used in the sheep trials as it is well-adapted to the Highveld's environmental conditions. The highly productive meat Boer Goat was used in the goat trials. Each animal was identified in its group by numbered ear tags. Groups were differentiated by the tattoo brand of each farm. Lambs were individually identified and regularly weighed from birth. The farmers' original management systems were used.
Sheep
The sheep study results (summarised in Table 1) were as follows:
Reproductive efficiency – 

Lambing and weaning rates were recorded. At Tweefontein, the lambing rate increased from 84% to 135% and the weaning rate from 80% to 108% in 2012 and 2013 respectively. This superior performance over that of the three other trial sites can be attributed to the farmer's good management.

The lowest figures were recorded at Mooihoek, where the lambing rate increased from 52% to 72% and the weaning rate from 31% to 64% in 2012 and 2013 respectively. The low figures are attributed to inefficient management and poor accountability due to group dynamics. 
Growth efficiency: 

Lambing and weaning weights and average daily gain (ADG) were recorded to illustrate the growth of lambs, nutrition and the maternal ability of ewes during lactation. Recorded increases in weight between 2012 and 2013 were as follows: 
– Mooihoek: 4,4kg to 4,5kg (lambing); 24kg to 26kg (weaning).
– Tweefontein: 4,5kg to 4,7kg (lambing); 27kg to 29kg (weaning).
– Rouxland: 4,0kg to 4,7kg (lambing); 30kg to 35kg (weaning).
– Athole: 4,6kg to 4,7kg (lambing); 28kg to 30kg (weaning).
Rouxland showed higher reproduction efficiency than the three other sites due to good genetic composition of the rams and better nutritional management during breeding and lactation. Mooihoek showed the lowest growth attributes due to poor management in a continuous (non-seasonal) breeding system.
ADG is the most important measure of livestock nutrition and also indicates a farm's nutritional status. As it can indicate the reproductive status of ewes, identifying those that have lambed and those that are pregnant, weighing dates can influence ADG. Tweefontein showed a negative response for ewes in 2012 and 2013 respectively, attributed to high lambing and twinning rates.
Mooihoek showed a negative response for rams in both years, attributed to continuous breeding where the ram was not rested. This compared with seasonal breeding on the other farms where the rams were well rested. Mooihoek would have to increase its ram:ewe ratio to improve reproduction efficiency.
Wool production – 

The wool at Athole was found to contain a high yield of clean fleece and less lox or dirty wool, while its total yield was higher than those of the other trial sites. 

Mooihoek was the least-efficient site as it employed unskilled shearers who sheared manually.
Mortality – 

Athole experienced high mortality from caracal and jackal predation in 2013. At all sites, more sheep were lost to disease than to predation or poor nutrition. 
Goats
Table 2 illustrates the Boer Goat breed's poor performance at the various sites, attributed to poor management and communal ownership of goat trial sites. The Boer Goat is also not suitable for the low input systems without supplementary feeding. Kid mortality occurred in all ecological zones. The nutrition available to the lactating ewes limited their milk production and maternal potential. Adding to the problem were multiple births (twins and triplets) and the fact that farmers were unable to meet the ewes' consequent high nutrient requirements.
READ MORE: The basics of Angora farming
Conclusions
The Dohne Merino Sheep breed generally performed well at the various Highveld sites. This can be attributed to proper management systems and the fact that most of the trial sites were individually owned. The generally poor performance of the Boer Goat, meanwhile, is largely due to bad management systems and the fact that the trial sites were communally owned.
In short, the various ecological zones and veld types do not have a significant impact on the performance of smallstock, whether goats or sheep, around the province.
Instead, the culprits are differences in management systems and the lack of proper processes, especially during purchase of livestock for Masibuyele Esibayeni Programme (MESP), where animals were introduced to new environments and management systems. The trial sites showing better performance still need improvement to ensure production potential on wool, reproduction efficiency and growth traits increases.
More has to be done to improve the skills of the smallstock farmers. Smallstock productivity on land reform farms has yet to be statistically captured for proper understanding by researchers and advisors so that the necessary interventions can be applied.
The study reinforced findings that the assessment of a fodder's value must be based on its ability to support survival, growth, health and reproduction. The carrying capacity of a farm, as defined by veld-crop-livestock interactions, has many benefits, with animals feeding on crop residues during dry seasons and returning to the veld during the growing seasons. This also provides nutrition to increase ADG and wool quality and quantity.
High mortalities all round
Mortalities due to disease were high for both sheep and goats. The report mentions a 2001 study that suggests a favourable relationship between resistance to internal parasite infections and the number of lambs or kids born per ewe or doe mated.
Source: progress report 2012-2014: Investigating the Productivity of Small Ruminants (sheep & goats) under various farm systems in various ecological zones of Mpumalanga Province. Directorate of Animal Research and Technology Development, Mpumalanga Department of Agriculture. Email co-author Petrus Khoza at [email protected].