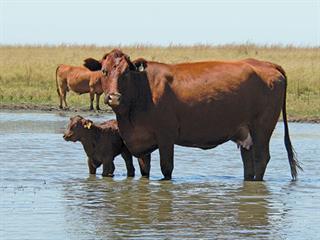 Livestock producers who are not prepared to implement precision farming practices will find it very hard to continue farming, says SA Stud Book CEO Dr Pierre van Rooyen. Precision farming involves the most effective use of resources, information and technology to minimise risks and maximise profits. "Let's take a commercial beef cattle producer as an example," says Van Rooyen.
READ MORE: Excellent genetics ensures profit on this Namibian farm
"The main aim of commercial red meat producers is to manage controllable resources effectively to create a breeding herd well adapted to the production environment and cows that annually wean a calf weighing 50% of their own body weight.
"Without proper record- keeping, it will be virtually impossible to determine which animals meet these minimum requirements."
Ensuring superior genetics
Van Rooyen stresses that it is the responsibility of the stud industry to supply the best possible genetics to both the stud and commercial livestock industries. "High-value genetics can only be determined by the meticulous recording of factors such as births, parentage and ownership in conjunction with performance testing. This data is also vitally important for commercial livestock producers in their quest to increase meat, milk and fibre production."
This highlights the need for a reputable data base created through detailed and ongoing animal recording and performance testing that enables all breeders to make informed decisions on the genetics they plan to purchase. In order to determine the actual performance of a livestock herd, detailed records of the reproduction performance and weaner weight of every individual animal on the farm should be recorded. This will make it possible to establish both poor and top performers in a herd.
"To measure is to know," stresses Van Rooyen. "The economic realities of livestock production in South Africa are such that no one can afford mediocrity on their farms any more. And the only way to improve profitability is through animal recording. "I'd recommend that prospective buyers from the commercial sector purchase registered sires. These animals adhere to the minimum breed standards as set out by the breeders' societies."
Precision: vital for dairies
SA Holstein breed director Herman Duvenhage concurs, saying that animal recording and performance testing are essential in the dairy industry. Profit margins in milk production are currently under enormous pressure and the application of precision farming principles is crucial to keep producers in business.
"Know the traits that pay," says Duvenhage, adding that these include fertility, longevity, easier calving, a high calving rate, and improved milk quality and quantity. "The evaluation for health traits, for instance, makes a real difference in a sire's progeny, independent of heritability. Management will always trump genetics, but it's easier and more profitable to manage high-trait cows than low-trait cows."
The trait for productive life, for example, will enable you to estimate how long a cow will remain productive in the herd.
"Selection will favour trouble-free cows with high fertility combined with a regular calving interval. But the only way these traits can be determined is to record and test," he says.

READ MORE: Pig breeder takes his stud to the top
The Net Merit index is a lifetime profitability index that takes into account various production, health, fitness and conformation traits, explains Duvenhage. The index calculation is revised regularly to reflect progress in identifying and evaluating traits that affect a farm's bottom line. Net Merit identifies and contributes to long-lasting, fertile and healthy cows with correct udders and feet and legs that produce milk efficiently.
"We as dairy farmers cannot only select for certain traits," says Duvenhage. "A combination of all the traits must be taken into consideration to produce longer- lasting, more profitable cows. And that can only be achieved through precision farming practices."
Phone Dr Pierre van Rooyen on 051 410 0900 or Herman Duvenhage at 051 447 9123.