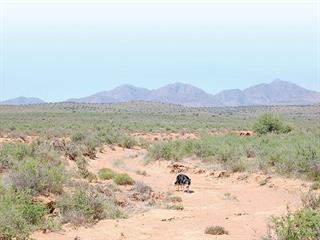 In recent years, there has been a sharp increase in off-road driving (ORD) and the pressure that poorly routed and badly maintained roads place on ecosystems is likely to escalate, according to soil scientist Dr Gerhard Nortjé.
Research suggests that uncontrolled ORD can lead to irreparable environmental damage. In comparison with looking after plants and animals, caring for roads may not seem so important. However, soil is a non-renewable resource; its loss or degradation is not recoverable within a lifetime. Uncontrolled ORD not only compacts the soil, it destroys the plant cover that protects the soil from erosion, says Nortjé.
"The problem gets worse when the soil is wet. Ruts created in this way serve as channels for water to flow. This is a serious problem, especially on slopes. The erosion is bad for plant growth and also has a negative visual impact," he explains.
Although South Africa has legislation for driving on coastal sand dunes, there is no specific law governing ORD on land. Current guidelines for ORD in parks, which stipulate that vehicles driving off-road may not follow in each other's tracks, is the worst advice imaginable, according to Nortjé. Most compaction occurs at the first pass, and driving on the same tracks more than once is far less damaging than driving on different tracks once. In other words, if you make one track, you greatly reduce the compacted area.
Research conducted in a wildlife park showed that loaded game drive vehicles cause subsoil compaction and surface crusting. Up to 90% of the damage occurs at the first pass on loose soil and up to 60% of subsoil on already degraded soil. The damage done is not confined to the strip under the wheels, but spreads laterally.
Soil sensitivity
Nortjé suggests that because even a small mistake in land planning and management can have serious consequences, ORD should be evaluated in terms of inappropriate land use.
"Damage will depend on the robustness of the land and climate. In some cases in the Drakensberg-Maluti area, for example, soils are robust against degradation but have low resilience when they do give in.
"Better road networks can be designed using a soil sensitivity map which would indicate avoiding, at all costs, areas such as vleis, sodic sites, silt-loam soils and soils with high fine sand and silt content, as well as barren spots with no grass cover.
"It is only when ORD is carefully matched to land capability that it can be seen as being sustainable."
However, he doubts whether this is at all possible, even at low levels of ORD.
The concept is well-documented in agriculture and forestry. Under mechanised cropping conditions, there is normally a loose soil layer from 5cm to 15cm due to secondary cultivation, as well as a very dense and severely restrictive traffic pan from 15cm to 25cm in depth.
Uncontrolled, haphazard movement of vehicles and implements over cultivated lands during secondary operations can compact the entire land, causing a subsurface traffic pan. A simple cultivation system of controlled traffic – tillage where operations are performed in fixed paths so that soil recompaction by wheels does not occur outside the selected paths – reduces the compacted area.
Driving on game ranches
Conditions under which ORD is done on game ranches are somewhat different from those in agriculture. Here, ORD is usually done on virgin, undisturbed soils. However, the damage can be greater if previous land use, such as cultivation, encouraged soil compaction. Such an area will take a long time to recover from crusting.
Do's and don'ts of off-road driving

The initial costs of building a road are very low compared with the long-term costs of upkeep, according to Dr Gerhard Nortjé. Owners should not let their roads become a landscape management problem for the next generation or owner. A good roads plan, which avoids uncontrolled off-road traffic, need not diminish the quality of animal viewing or hunting.
Stay on the tracks! In game reserves, leaving the established routes to drive into the veld for better game viewing is a common practice but exceptionally damaging. In arid areas even a single, brief game capture operation can leave tracks in the veld that remain visible after 15 years.
Sometimes roads get into such a bad state that they are abandoned. It's essential to rehabilitate the area they have destroyed.
Plan properly – don't simply build a new road along the easiest, shortest route.
Never 'ride out' a new road or go off-road when the soil is wet.
Deal with drainage during construction, not afterwards. Ensure that the drains do not cause their own erosion. Lead the water into log and brush drains that dissipate run-off. These will become sites for seed germination and eventually grass cover and habitat for wildlife.
Where ORD cannot be avoided, limit damage by eliminating bare soil through good veld management.
Phone Dr Gerhard Nortjé on 083 501 8680 or email [email protected].