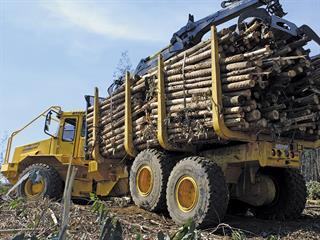 Since 1998, Desmond Equipment has introduced a new Dezzi product every year. The range now includes wheeled loaders, haulage tractors, articulated 4×4 haulers, articulated 6×6, 6×4 and 4×4 dump trucks and timber trucks, cane and timber loaders, and a grader.
Haulers
Dezzi haulers work in a wide variety of on- and off-road transport operations. The H80TF 4WD Hauler has a 93kW JCB 444TC engine with 525Nm torque at only 1 300r/ min. The full powershift IPL transmission has four forward and reverse gears, giving the hauler a top speed of 40km/h. The inboard wet-disc brakes are sealed and the trailer brakes are air-operated.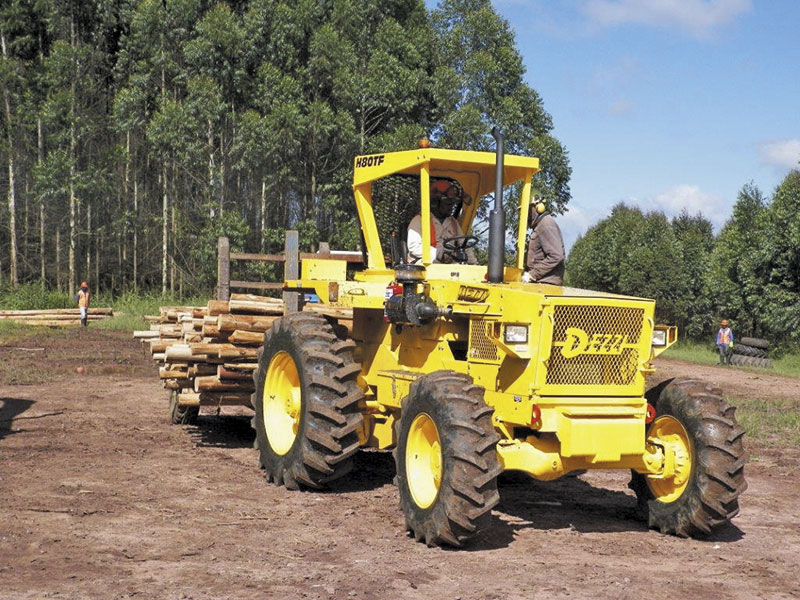 Dezzi H80 TF 4WD hauler with timber trailer.

Timber trucks
The Dezzi AT20B 6×6 and 6×4 Articulated Timber Truck is powered by a 194kW Cummins QSB 260 6,7-litre six-cylinder engine delivering 990Nm torque at 1 500r/min. The transmission is a ZF model 6WG210 with constant mesh counter-shaft, integral drop box gears and six forward and three reverse speeds.
The torque converter is a single-phase, three-element type with lock-up clutches, downshift protection, differential lock and inter-axle lock. More than 13 of these units are in the field, the oldest having done 23 000 hours. They run with a payload of 16t to 23t at speeds of between 15km/h and 35km/h.
Grader
The Dezzi MG80T Grader is powered by a 75kW JCB 444 TC turbocharged 4,4-litre engine. The gearbox is an ITL Model PS720 full powershift with modulation, torque converter and four forward and reverse gears. Fully hydraulic orbital controlled steering provides an 8,2m turning radius and the front axle can rotate 18° on either side.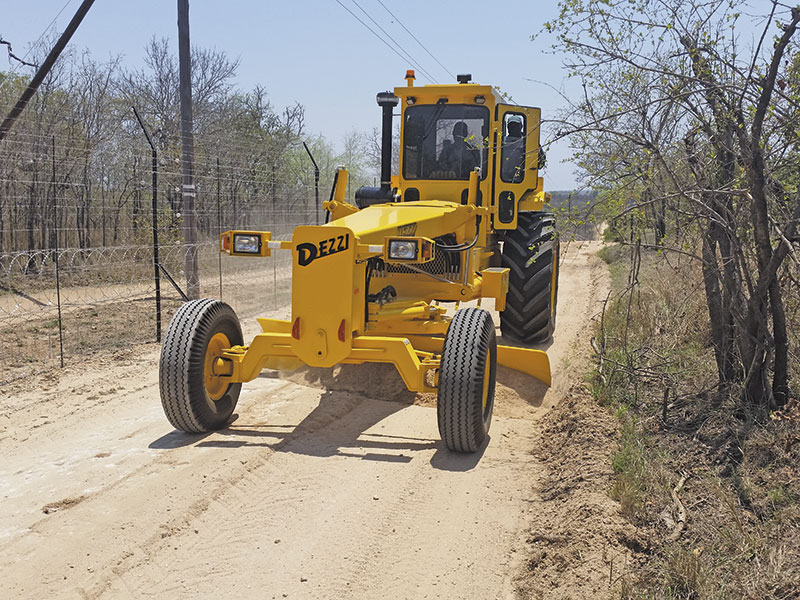 The MG80T Grader doing road maintenance on a Polokwane game farm.
The blade, including the cutting edge, is 3 050mm wide and 490mm high and can rotate 45° on either side, lifting 280mm and digging 250mm. The bank slope angle is 17° and the 1 600mm- wide scarifier can dig to a depth of 350mm. More than 250 of these graders are in service countrywide. Fuel consumption is between 4,5l and 5,8l/hour.
Joe Spencer is the mechanisation editor of Farmer's Weekly.