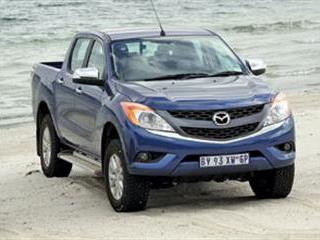 There we sat, 25 motoring journalists on the shores of Lake Sibaya in the Greater St Lucia Wetland Park, eyeing a 3m croc not too many metres away. This was an appropriate place for the launch of the new Mazda BT-50; it's a region that has possibly the highest concentration of one-ton bakkies in the world, and plenty of soft sand to test off-road capability. It also has the second-largest concentration of crocodiles in KwaZulu-Natal to add real interest to the experience of getting stuck.
Mazda and Ford, as most people know, are stablemates and share much of their DNA. Look closely, though, and you'll see that the Japanese brand generally targets the lifestyle market, while the Fords are more workmanlike. The styling of the new Mazda is thus more car-like than that of the Ford, and the designers have done a fine job. The range includes single-cab, 2+2 Freestyle cab (extended cab to you and me) and double cab versions. Only the latter, though, were made available for the launch.
The vehicles are larger all round than the outgoing versions, according to Mazda, and they certainly look more imposing. There are three engine options: 2,2l and 3,2l turbodiesels, and a 2,5l petrol version, mated to five- and six-speed manual or six-speed automatic transmissions. There's also a high-output version of the 2,2l turbodiesel, which could be interpreted as a fourth engine. Mazda believes that the most popular engine will be the MZ-CD 2.2 four-cylinder 16-valve common-rail direct-injection turbodiesel that is available in 88kW and 110kW versions.
Torque, which is more important than power, is rated at 285Nm from 1 400rpm to 2 900rpm for the less powerful engine, and 375Nm between 1 500rpm and 2 500rpm for the one with more grunt. Top of the range is the melodious MZ-CD 3.2 five-cylinder motor that ups power to 147kW and torque to a useful 470Nm from as low down as 1 750rpm and maintains its peak up till 2 500rpm. The diesel engines use cast iron cylinder blocks with aluminium cylinder heads, and have cam chains rather than belts, cutting servicing costs and reducing the chances of a mechanical calamity.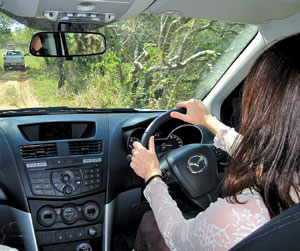 The interior and dash could have been lifted from a luxury SUV.
The MZI 2.5 inline four-cylinder DOHC petrol engine is an all-aluminium unit that's good for a respectable 122kW and 225Nm. This motor, like the lower-powered diesel one, comes only with a five-speed manual gearbox. The four-wheel-drive versions can shift between 2-high, 4-high and 4-low modes on the fly, and there's an electrically lockable rear diff lock as standard in some models. The lower spec derivatives offer a limited slip differential as an option.
Relative comfort
According to Mazda, the new BT-50 is engineered to provide the comfort of a passenger car with SUV-like handling. Well, yes, the front suspension consists of a double-wishbone set-up with coil springs, while a rigid axle with leaf springs looks after the rear end – hardly a recipe for 'car-like comfort levels'. Still, considering the vehicle is also expected to cope with anything between zero and one-ton-plus loads, the ride was impressive in the unladen double-cabs.
Bin sizes are respectable – the single-cabs measure 2 317mm x 1 560mm x 513mm, the extended cabs 1 847mm x 1 560mm x 513mm, and the double-cabs 1 549mm x 1 560mm x 513mm. Mazda has chosen to introduce a bewildering array of 17 models with the BT-50, so it's impossible to list all the features in our limited space here. There are six single-cab versions ranging from R190 990 (including VAT) for the petrol engine base 4×2 to R354 200 for the full house 4×4 3,2l turbodiesel.
The five Freestyle (extended cab) versions will set you back between R231 950 and R398 970, while the six double-cab derivatives climb from R340 480 to R462 210. All models come with ABS brakes and at least two airbags, and the safety and comfort features are dictated largely by the model. The interior of the new Mazda – in the double-cabs we drove, anyway – would be at home in an upmarket 4×4 wagon.
It is well laid-out, dials are easy to read, the surfaces feel soft and there is an impression of quality. Both front and back have numerous cupholders and storage trays and plenty of space. There was little terrain challenging enough to require 4×4 or diff locks except for our crossing of the Pongola, and much soft sand. For these sections, we parked the 4x2s and doubled up in the 4x4s. I drove the high-power 2,2l diesel 4×2 and the top-of-the-range 3,2l five cylinder turbodiesel 4×4.
Both engines are willing enough, so if I didn't need 4×4, I would probably buy the four-cylinder high-output 2,2 version in 4×2 and save close to R100 000. It's unfortunate that, despite the wide array of models, the only 4X4 versions available are the single-cab petrol SL model at R228 070 and the expensive 3,2l five-cylinder derivatives in all three body styles. Mazda should perhaps simplify the model range and give customers what they really want at an affordable price.
The new Mazda BT-50 pickups are more stylish and slightly more expensive than their Ford Ranger equivalents, yet they are mechanically very similar. I suspect that most farmers would be very happy with either of the two but the Ford line-up might just offer the exact package that many need at a better price.