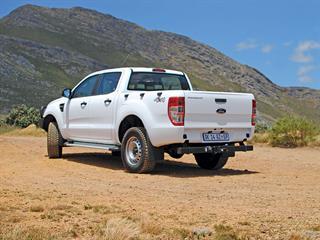 The Ranger XL-Plus introduced last year is an extra-tough addition to Ford's range of one-ton bakkies; it is aimed at mining companies, farmers and any business needing an especially rugged 4WD. It is already selling well in Africa, Australia and New Zealand. The XL-Plus has a 2,2-litre turbo-diesel engine, and is available in chassis-cab form as well as in single- and double-cab versions.
In rough mining terrain, the 4WD mode – often in low range – is used most of the time. The suspension takes a pounding, so the frame, shock absorbers and springs must be extremely robust. And frequent accidents mean that mining companies buy vehicles with a five-star safety rating only.
The standard XL already complies with these requirements, but extra features have been added to the XL-Plus version:
Side impact and curtain airbags, as well as a driver's side knee airbag (on the double cabs), in addition to the two front airbags, to meet international mine safety requirements;
A modified frame to increase the maximum towing load to 3 500kg;
A heavy duty front bumper, extruded aluminium steps and mud-flaps.
A heavy duty secondary battery to power auxiliary equipment;
Heavy duty canvas seat covers and thick vinyl floor covers.
No compromise on safety features
An optional factory-fitted bullbar is available. Unlike the usual aftermarket bullbar, this does not compromise the effectiveness of the passive safety equipment; it works in conjunction with the vehicle's deformable chassis so as not to hinder airbag deployment.
The double-cab is spacious and the seats, despite their canvas covers, are remarkably comfortable. The driver's seat is adjustable for height and backrest. This is a workhorse with no fancy fittings, yet I felt quite at home. It is also a fun-to-drive vehicle which showed its high-torque capabilities through immediate and satisfying acceleration whenever I touched the throttle.
The engine is a more powerful version of the standard Ford 2,2-litre four-cylinder turbo-diesel Duratorq unit, developing 110kW at 3 700 r/min and 375Nm at between 1 500 r/ min and 2 500 r/ min. It retains the same torque over a range of engine speeds by keeping the turbocharger boost pressure constant; this enables the engine to stay at maximum efficiency.
The compression ratio is a low 15,7:1, which is another innovation. In the past, diesel compression ratios tended to be over 20:1, but the modern trend is for lower ratios. This lowers the amount of power lost in overcoming friction between the rings and the cylinder walls.
Gearbox, steering and suspension
Unfortunately, the gear-change quality on the six-speed manual gearbox did not impress. The change was notchy, almost as if the clutch did not release properly when depressed. All models in the XL-Plus range are fitted with high and low range 4WD plus an electronic locking rear differential.
The power steering unit is pleasantly light without being lifeless, and the brakes are powerful but progressive. Front suspension is independent by means of coils and double wishbones, while the rear wheels are catered for by the almost-universal leaf springs and beam axle. The ride is fairly harsh, as the springs and damping are designed primarily to cope with heavy loads.
Safety features
Most of the active safety items are standard. They include ABS with EBD, ESP plus DSC, and hill launch assist that keeps the brakes on for a few seconds to prevent the vehicle rolling backwards. A trailer sway control, that brakes the vehicle lightly when a trailer starts to sway, is standard.
The most basic model in the XL-Plus series, the Ford Ranger 2.2-litre Single Chassis Cab XL-Plus 4×4, costs R289 386 (excl. VAT), while the Ranger 2.2 Double Cab XL-Plus 4×4 is priced at R343 772 (excl. VAT). The optional front bullbar is extremely expensive: R15 789 (excl. VAT). The vehicle carries a four-year/120 000km warranty and five-year/90 000km service plan. There is also a three-year roadside assistance plan and a five-year corrosion warranty.