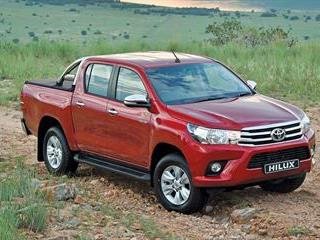 It has been a long time coming, but Toyota's eighth-generation Hilux bakkie has finally materialised – more than a decade after the launch of the previous all-new model in 2005.
South Africa's best-selling bakkie has arrived where it is through evolution rather than revolution. The first generation sold for just R1 525 in 1968. Its 1,5-litre petrol engine produced 57kW and could barely crawl to 130km/h, while today's basic 102kW model gallops to 170km/h.
The new Hilux has a stronger chassis and a longer, wider body.
Toyota has sold more than a million Hilux bakkies in South Africa, with a substantial number going to farmers, but the past four years have seen its market share gnawed away by its upmarket rivals and the steadily-improving Chinese and Indian budget bakkies. As a result, Toyota has brought out its big guns, and the new Hilux is a quantum leap ahead of its predecessor.
Tougher, more stable
To begin with, it offers a stronger ladder-frame chassis and a longer and wider body made from tougher, lighter steel and held together by 50% more spot welds. The suspension is all new, with longer leaf springs and larger shock absorbers relocated for durability and stability, while wheel articulation has been improved by 20%.
The diesel models have new ultra-efficient engines, while in the upmarket models particularly, the range of electronic driver aids has been expanded. According to Toyota, the new engines and gearboxes allow the towing capacity for these vehicles to be increased, with the 2.8 GD-6 4×4 boasting 3,5t of pulling power.
There are 23 models in all, ranging from the two-litre petrol single-cab workhorse up to the ultra-plush 4.0 V6 4X4 Raider.
The diesel models are powered by new four-cylinder GD (Global Diesel) engines displacing 2,4 and 2,8 litres, with the smaller engine available in standard (110kW/343Nm) and high-output (110kW/400Nm) versions. The bigger oil-burner is good for 130kW, while a useful 420Nm of torque is on tap from 1 600rpm to 2 400rpm when matched to a manual gearbox, and 450Nm at the same revs for the auto versions.
The three petrol engines are largely unchanged, being slightly improved versions of the existing two-litre (102kW/183Nm), 2,7-litre (122kW/245Nm) and four-litre (175kW/376Nm) motors.
The 2.0 is available only in the single-cab workhorse models. Pricing ranges from R228 900 to R435 000 for the single-cabs and R333 900 to R470 900 for the extended cabs.
The 10-model double-cab range kicks off at R377 900 for the Hilux DC 2.4 GD-6 RB SRX and ends at R593 900 for the flagship V6 petrol Raider.
The new Hilux was launched on 23 February. More than 1 000 double-cabs were sold there and then.
There are four specification levels for the Hilux: Standard, SRX, Raider and a derivative called the SR developed to comply with the mining sector's safety requirements.
The interior of the new Hilux has been substantially improved: the overall quality is better, features have been added and there is slightly more space. The standard models have all the essentials: power steering, a driver's airbag, central locking, electric windows, ABS brakes with brake-assist and an immobiliser. An air- con adds R7 500 to the price.
The SRX has an air con as standard, steering wheel audio controls, an audio system with radio/CD, Bluetooth and USB, a multi-information display, flared fenders, side steps, and a passenger airbag.
Some of the additional features found on the Raider are automatic climate control, a 178mm colour touch-screen, traction control, vehicle stability control, trailer sway control, pitch and roll control, side airbags up front and, in the four-litre models, satellite navigation.
Instant mode selection
One significant change is that the SRX and Raider models now enable you to select 'Eco' or 'Power' mode for different conditions. The 4×4 models also use a rotary dial to switch between 2WD, 4WD and 4WD High at speeds of up to 50km/h. New high-capacity limited slip differentials are fitted on both axles of the 4x4s.
At the launch we drove the 2.8 diesel double-cab Raider 4×4 versions, on motorways, country roads and gravel district roads, and around a 4×4 track with soft sand, steep inclines, and heavy corrugations. The bakkie impressed everyone and was seen as the most significant new Hilux in decades. Ride quality has been transformed, performance is good, build quality is excellent, and the Raider feels more like a luxury SUV than a bakkie.