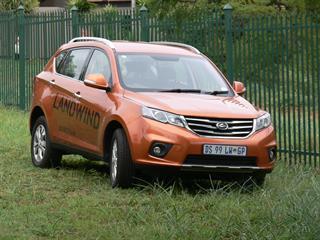 Last year saw the launch of the JMC Landwind 4×2 MT LUX SUV, a milestone for the JMC Group in a South African market already saturated with an impressive variety of SUVs.
The Landwind is currently available only in a 4×2 manual transmission luxury version, with the 4×2 automatic transmission luxury and the 4×4 automatic transmission flagship as possible future imports.
With its comprehensive specifications, modern design, aesthetically pleasing finish, and highly competitive pricing, the Landwind is a substantial addition to the JMC Company's range and well-placed to take on the SUV brands long established in South Africa.
The road test
I had the pleasure of driving a test vehicle for a week and found it a pleasing, practical vehicle, with its pros certainly outweighing its cons. It offers outstanding value for money.
The Landwind is powered by the 4G63S4T petrol engine. Developed by Mitsubishi, it is a transversely mounted, two-litre, four-cylinder inline, water-cooled, four-stroke power plant with an electronic control unit and turbocharger. It complies with the Euro IV Emission Standard, and develops an impressive 140kW at 5 500r/min and 250Nm of torque at between 2 800r/ min and 4 400r/min, driving the front wheels through a six-speed all-synchromesh gearbox.
Fitted with vacuum-boosted, double-line hydraulic disk brakes with ABS + EBD on all four aluminium alloy wheels, the Landwind stops safely and easily.
General driving experience
I drove the test vehicle as I would have used my own vehicle. On the N1 and M1 between my Pretoria base and the Farmer's Weekly head office in Craighall, Johannesburg, it was a pleasure to drive, the engine pulling strongly and smoothly in all gears. Around town it was equally nimble and quick.
The sixth gear took a bit of getting used to, but was never a problem with all that power and torque available. Handling, stability and braking could not be faulted, but I'm a conservative driver. Younger 'petrol heads' pushing it to the limit might find quirks and limitations undiscovered by me.
Fuel consumption and safety features
The Landwind SUV offers good build quality, performance and fuel consumption at a very reasonable price. It returns an excellent combined cycle fuel consumption rate of 8,5l/100km, and effortlessly reaches a maximum of 185km/h, accelerating to 100 km/h in 11 seconds, according to the manufacturer's figures.
Designed for both work and leisure, it offers a host of safety, security and comfort features, making it an ideal family car. Safety features include dual airbags, an anti-theft security system engine, audio park distance control warnings with three sensors, and child-safety locks on rear doors.
I also liked the warning lights on the outer edges of the doors, linked to the alarm flasher system, which automatically turned on when the door was opened. Should a door be left open, a timer switch prevents the battery from running down.
In my experience and opinion, the Landwind is in a class of its own, and a noteworthy buy. Its performance and specifications complement its versatility, efficiency and spaciousness.
In contrast to some other vehicles in its class, the rear passenger compartment offers a particularly generous amount of legroom, and comfortably seats three large adults.
Cost and after-sales service
At a cost of R269 880, it is very reasonably priced compared with many traditional manufacturers' vehicles. It comes with after-sales service options, including a three-year/100 000km warranty, a two-year/60 000km service plan and 24-hour roadside assistance.
Complaints
No vehicle is perfect at its launch. Constructive and objective criticism from owners is sure to find its way into later versions. In the light of this, the following are some difficulties I encountered.
The boot lid is very difficult to operate with one hand, especially when closing.
The adjustable front seat headrests are adjustable in name only.
Inexplicably, there is no clock on the dashboard. Or rather, as the test vehicle had no operator's manual, I could not determine how to make one materialise.
The radio controls were difficult to figure out in the short time available, and the system produced poor sound quality. However, the CD player sound was excellent, so a weak radio signal may have been the problem.
Seemingly added as an afterthought, a "Fill with petrol only" warning sign is painted onto the bodywork near the tank filler lid.
No tyre pressure data is provided under the filler lid. Instead, there is a sticker with the puzzling message "Limit the use of 93 and above unleaded gasoline". A sticker with vehicle weight data was placed on the inside rear of the driver's door frame. I suspect the operator's manual must be consulted for tyre pressure data.
An 'emergency-only' special spare wheel on a steel rim, with a tyre size 1145/80 R18 109M, is located well below the cargo compartment floor. While the running circumference is compatible with that of a normal road wheel, the spare is considerably narrower. This presents the old problem: where to store the punctured road wheel in the mean time.
Phone Nicolene Breitenbach at Jiangling Motors SA on 011 668 0300. Visit www.jmcsa.co.za.