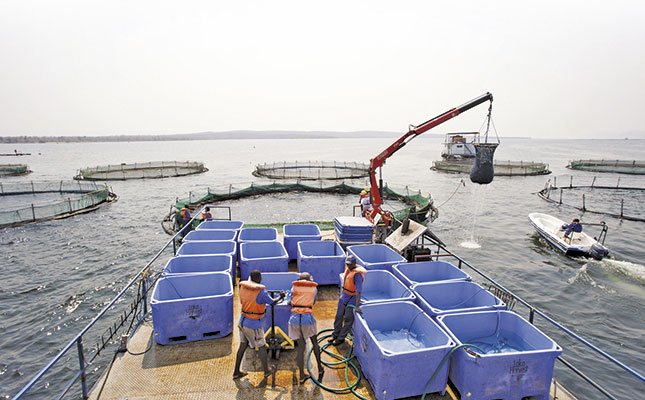 Lake Harvest, a Zimbabwean commercial fishing operation, has successfully farmed and exported tilapia on a sustainable basis for the past 14 years. The Nile tilapia (Oreochromis niloticus) is a hardy freshwater fish native to Africa. It is a mild-tasting, firm, white fish, and is an alternative to hake and kingklip, the numbers of which are dwindling worldwide due to over-exploitation.
Lake Harvest recently expanded its market into South Africa when it was contracted by local supermarket chain Pick n Pay to supply frozen tilapia to its stores in Johannesburg.
Native to Africa
Tilapia has a naturally high reproductive and growth rate, making it well-suited to aquaculture. The fish are reared naturally in the clean, clear water of the Zambezi River at Lake Kariba in northern Zimbabwe. This man-made lake is about 270km long, with Victoria Falls at one end and the Kariba Dam at the other.
The town of Kariba is dominated by the fish industry, which saves the lake from heavy industrial pollution. This, together with a good water exchange rate, the environmental conditions and optimal surface water temperature, ensures a highly suitable habitat for farming tilapia all year round.
Natural production
No pharmaceuticals are used in the production process. The fish are raised on locally produced, high-quality, cereal-based feed, free from GM organisms, antibiotics, and mammalian and avian by-products. Because they are reared in cages many metres above the lake floor, they also have none of the 'muddiness' sometimes associated with freshwater fish.
Juveniles are bred and reared in ponds on the shore of the lake, covering a 20ha area. The average size of each pond is 400m3 – 40m x 10m x 1m. No stripping, induced fertilisation or induced spawning is done. The fish are allowed to breed naturally, with the broodstock resting in holding ponds for 30 days of the year. The sexes are kept separately so that they can be brought into the best spawning condition.
This also prevents unplanned spawning in the holding ponds.
Mechanical harvesting
Juveniles that weigh about 25g and are intended for on-growing to market size are transferred to floating net pens moored offshore. These have a volume of 1 000m3 each (20m x 15m x 7m). Lake Harvest has more than 150 permanent floating cages on the water. The water depth below the cages is about 30m.
Once the fish reach market size (about 500g live mass), they are harvested mechanically. A seine, net hanging vertically in the water with its bottom edge held down by weights, brings the fish closer together so that they can be scooped up easily by a landing net attached to a crane. They are then taken to Lake Harvest's processing facility in Kariba.
Sophisticated processing
The system involves different steps for the production of fresh, whole round fish and skinless boneless fillets, explains Philip Nyarirangwe, Lake Harvest's sales director in Johannesburg. With the whole fish product, some steps may be missed out – such as skin left on fillets – to provide a less refined product.
Fish for filleting are received alive and sedated before processing. They are then bled by making a cut in the gills, and once dead, descaled by hand. Fish are also beheaded by hand before being gutted and scrubbed. The product is then submerged in a cleaning tank with a large volume of contra-flow, agitated water. This is the first critical point where bacteria are controlled.
The cleaned fish then go to the filleting side of the processing plant. Each fish is filleted by hand, skinned by machine and trimmed by hand. Fillets are individually inspected for bones and general condition, before being rinsed in clean water. The fillets are batched, placed in a blast chiller/freezer and removed when the correct chilled or frozen temperature is reached.
Approximately 15t of fish is processed in a 12-hour working day. The temperature for every batch is carefully monitored – this is the second critical control point. Chilled fillets are packed immediately and frozen fillets are packed after glazing. According to Nyarirangwe, the frozen, whole-gutted products are packed in 1kg and 2kg packs, while fillets (skin on, or skinless and boneless) come in 500g packs. The fillets are individually sleeved and sized for single servings.
Quality control
The standard operating procedures of the Lake Harvest factory meet international standards of sanitation and food safety, explains Nyarirangwe. All by-products, excluding the heads and belly flaps, which are sold for human consumption, go to local crocodile farms for feed.
The farm and the factory employ a total of 600 people from the local community. Apart from its export operation, Lake Harvest is also developing regional markets in areas where there is already strong demand for the product.
Currently, Lake Harvest tilapia is available only in Johannesburg, but expansion to other major centres in South Africa is being planned.
Email Philip Nyarirangwe at [email protected].
A version of this article also appeared in the Fish Farming magazine.