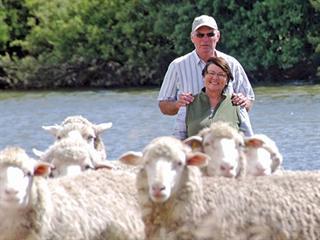 William Henry Rogers came to South Africa from England 100 years ago after being approached to look after a renowned racehorse stud in the Karoo. He would have been proud of his grandson Richard, who, together with Richard's wife Jenni, farm Dohne Merino and Bonsmara cattle on their Karoo farm.
William had run the Duke of Cumberland's racehorse stud in England. With a reputation that preceded him, he was approached by South African mining magnate Henry Nourse who, with 700 horses on his three farms in the Karoo in 1900, was reputed to own the largest thoroughbred stud in the southern hemisphere. One of these farms was Dwarsvlei in the Middelburg district, a few kilometres from the Rogers' farm, Hathersage. Dwarsvlei had 200 brood mares and Nourse made William an attractive offer to run the farm.
William thrived in the Karoo and married his English sweetheart, Florence Pressley, who joined him here after a two-year, long-distance engagement. Their son Douglas, Richard's father, was born in 1919. Circumstances were not quite as rosy as Nourse had made them out to be and William realised that if he wanted to get ahead in life, he would have to start out on his own. So he and Florence bought Hathersage in 1926 and started farming with Merinos. Young Douglas took to farming from an early age and joined his father on the farm.
"We regard farming in South Africa as tough now, but those were also very tough years," recalls Richard. "To keep the farm going, my father worked as a wool classer for the then FC Farmers Co-op in Middelburg for several years."
Investing
Putting everything they earned back into the farm, William and Douglas gradually bought more land to create the 7 000ha farming enterprise that Richard and Jenni have today. Richard farmed with his father and his mother Una for several years before taking over the enterprise. He and Jenni (née Dodds) were married in 1996, and their daughter Natalie was born two years later.
Jenni had been in the same class as him at Union High School in Graaff-Reinet and worked with Swissair before their marriage. She too is from a wool family. Her grandfather, Percy Roger Dodds, worked for a firm of wool brokers in Port Elizabeth for several years before establishing his own wool brokerage, PR Dodds & Company, in 1928. On various occasions he held the office of president of the Port Elizabeth Wool Exchange and the SA Wool and Mohair Selling Brokers' Association.
"It was really special to find a PR Dodds & Company sign in our barn, as Richard's father had sold wool to him," says Jenni, who manages the administrative side of the farm, including helping to select and buy rams.
Dohne Merinos
In 2001, the Rogers made the decision to farm with another breed. "We changed from Merinos to Dohne Merinos, for the mutton-wool ratio," says Richard, who is the Middelburg and Cradock representative on the National Wool Growers' Association. Today, he and Jenni run a flock of 2 500 Dohne Merino sheep, including 1 300 breeding ewes and 800 wethers.
They also run 100 breeding goats (Boergoat and Savannah), and 170 breeding Bonsmara females."Over the past 13 years we've worked at improving the quality of our Dohne Merino progeny and our wool by buying in AA rams with above-average wool at an average of R12 000 each," explains Jenni. "These rams are from recognised breeders in our area, including Graham Hobson, JP Steynberg, Lionel and Jean de la Harpe, Frans Marx, and Grootfontein Agricultural College, which is producing exceptional rams."
The Rogers currently have 32 rams and produce a consistently high quality, clean clip of between 17,1 and 19 microns. In fact, their 2013 wool cheque was a third higher than that of the previous year. "The land we farm on, which is one-third mountain sourveld, one-third mixed sweet and sourveld and one-third sweetveld, is best suited to light-clipping sheep. We shear about 5kg per ewe," Richard explains.
Heading to the farm to look at the ewes, one is drawn to a monument to the Great Trek of 1838. "The old road from Graaff-Reinet to Middelburg runs through our farm, so all the ox wagons from times gone by would have passed this way," says Jenni. "This monument was erected in 1938 to commemorate the centenary of the Great Trek."
A little further along, stockman Nelson Mdingi is rounding up the ewes on horseback. He is assisted by Elbie Louw on foot, giving commands to the Rogers' 10-year-old sheepdog Bella. Richard's flock lambs twice a year, two-thirds in spring and one-third in autumn. He retains 30% of the ewe lambs and is currently expanding his lucerne pastures from 15ha to 30ha for the newborn lambs and their dams for the first few weeks. He uses a combination of flood and spray irrigation.
"We're in the process of enclosing our lambing areas with jackal-proof fencing," says Richard. During the lambing season, he divides the ewes into flocks of about 80 each for easier management. When not lambing, they run in flocks of between 250 and 300.
To control internal parasites, Richard gives adult sheep a broad-spectrum dose in autumn and spring, or whenever necessary. Lambs are dosed mainly for tapeworm at six weeks and again at weaning. The annual flock inoculation programme includes pulpy kidney, blue tongue, Rift Valley fever and enzootic abortion for the young ewes. All sheep, goats and cattle are dipped against Karoo paralysis ticks at six-weekly intervals from mid-March to mid-September.
At the mountain farm are staff members Mannetjie Malgas and James Tame who have brought in a group of 18-month to 24-month old heifers together with a fine bull that has just been put in with them for first mating. "The reason I run sheep, cattle and some goats is that sheep are best suited to the bossieveld/grassveld combination, cattle to the grassveld component and the goats to the browse component of the veld, mainly thorn trees," Richard explains.
Beef cattle numbers are on the increase in this part of the world. "We see their potential," he says. "My father ran only 40 cows, and in my grandfather's time beef cows weren't even a factor. He had eight to ten milk cows."
The next generation
Also on the increase is Natalie's goat flock. It's unusual to find a 16-year-old girl who enjoys talking about farming
and livestock. When Natalie comes home from boarding school in Grahamstown for the holidays, the first thing she does is check up on her goats."I started a flock of 20 Savannah goats," she says. "I make money selling some of the kids and use it to buy rams and lucerne pellets for supplementary feed in winter. This venture gives me business and farming experience.
"I 'm grateful to have grown up on a Karoo farm. It has given me a grounding in life and a love of animals and nature that will equip me for the future."
Phone Richard and Jenni Rogers on 049 842 2713 or email [email protected].