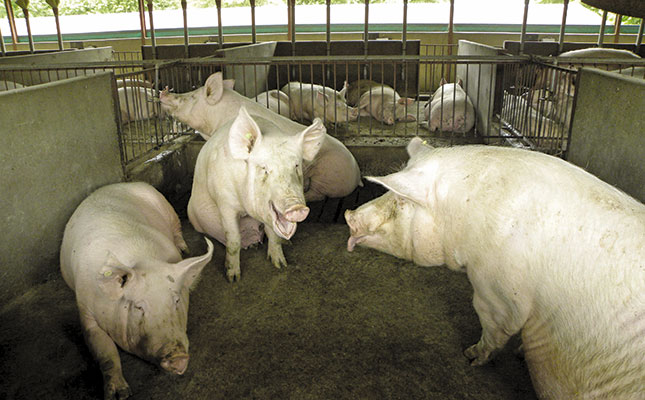 Kamberg farmers Rob and Ian Butt are as concerned about pig production as they are about pig welfare. Five years ago they therefore transformed their piggery by partly moving away from gestation crates and introducing group housing pens for pregnant sows and converting to a high health herd.
READ: New deal for pig farmers
Brothers Rob and Ian have been farming pigs in the Kamberg, in the foothills of Giant's Castle, for 23 years. Before that they farmed at Ntabamhlope in the Estcourt district, where they learned the ropes from their father Reg.
The piggery is split into three different units: a 1 000-sow unit with gestation crates, group housing and farrowing crates and two growing units for the progeny – about 11 000 pigs at any given time or 54 000 pigs a year.
Previously, the Butts kept sows in gestation crates for the entire pregnancy. Now, they are crated for the first eight weeks of gestation and moved to group pens for the last eight weeks.

Manager Victor Bosse (left) with pork producer Rob Butt.
A week before delivery, sows are transferred to farrowing crates, where they stay until the piglets are weaned and moved to the growing units at four weeks. Butt Farming sows are inseminated at about 7 months with semen from Topigs genetics, and again a few days after weaning.
Accommodation conversion
"We moved to group housing because we had pens available," says Rob.
"We converted existing units and did not have the expense of building or expanding sheds. We think the sows should have freedom of movement at some stage in the production cycle."
The Butts follow a trend that has found increasing favour in the pork industry.
"The sows look so content in the group houses and they have the opportunity to socialise. Time spent in pens gives them the opportunity to strengthen their feet and legs so that they are fitter when they farrow," adds Rob.
The life of a sow
Sows average 2,4 litters a year or up to 13 litters in a lifetime, with about 27 pigs marketed per sow per year. With a gestation period of 112 to 115 days, the sow spends 16 weeks of the year in a gestation crate and 20 weeks in a group pen.
READ: Common pig diseases – 1
This system is in line with the NSPCA's new pig welfare code, which aims to limit the use of gestation crates to 63 days, or at most 50% of the gestation period, by 2017.
The SA Pork Producers' Organisation (Sappo) is working to extend the deadline (or alternatively to introduce individual pens in which sows can turn easily) to 2020. Sappo feels that farmers need more time to change their current systems.
Consumer demands for the improvement of pig welfare
A sow crated for her entire gestation period may suffer a number of problems, including increased risk of urinary tract infection, weakened bones and overgrown hooves.
The sow cannot engage in natural social behavior, and may show signs of extreme boredom such as biting, chewing and head weaving.
Pressure from consumer and animal welfare groups has led to a ban on gestation crates in Sweden, the UK and the EU. A total ban on their use after the fourth week of pregnancy will be effective in these countries by 2013.
Gestation crates are being phased out in Tasmania and New Zealand. In Australia, the pork industry has initiated a voluntary ban.

Blinds on the sow units are opened or closed according to the internal temperature. The temperature in farrowing houses is kept at 20ºC to 21ºC.
No drop in production
Some producers in the US and Europe have predicted productivity losses due to the ban on gestation crates. But this was not the case at Butt Farming.
"We have had no loss in production since introducing group houses. We keep the sows in gestation crates for the first 63 days of pregnancy. If a sow is stressed during that time she may resorb foetuses. In group pens, there is always some conflict. Pigs compete for food, water and space and dominant sows bully the submissive ones. In the stalls, sows are not subject to those stresses," Rob explains.
Pen groups
Following a few simple rules, Butt Farming now groups sows according to size in groups of four.
"We think that four to six animals per pen is the way to go. We can put sows in groups of 300 and feed them automatically by transponder, but such big groups are more difficult to manage," says Rob.
Automated on-ground distribution deposits enough food for the group on the floor. There can be some aggression during feeding and submissive sows might not get enough food.
READ: 6 facts about feeding pigs
"If we rebuilt pens, it would be a good idea to have a cubicle for a sow to go into at feeding time. This would reduce bullying and the sow would feel protected when eating," says Rob.

Week-old piglets in a farrowing crate. Weekly, Butt Farming has 96 sows farrowing an average of 12 live piglets/litter.

Sappo estimates that 40% to 50% of South Africa's 100 000 commercially farmed sows live in conditions that comply with the new welfare code.
While most large South African commercial pork producers have changed, or are in the process of changing, their systems, smaller and developing farmers have been slower to adapt.
These producers would be hardest hit by the new code. Crate to pen conversion involves learning new skills. Indoor group housing also needs larger sheds and a longer feeding system to traverse the distance. Interest repayments on borrowed capital means an increase in costs.
"In group housing, we allow 3m²/sow while in crates (0,8m wide x 1,2m long), we allow 1,3m²/ sow," says Rob.
Management and labour demands are very similar in the two systems.
"There are definite benefits to group housing and I think it is a worthwhile investment. Ian and I try to balance the welfare needs of the pig with the economic requirements of the farmer," Rob concludes.
Farming a high health herd
When the Butts introduced group housing five years ago, they restocked the piggery with Topigs sow lines and introduced strict biosecurity to preserve the herd's disease-free status.
The piggery units are surrounded by a 2,4m fence, which extends 50cm underground to prevent pigs and other mammals from entering the area.
Visitors and staff shower before going into the piggery, shedding personal clothing and donning farming kit. Foot baths between units maintain sterility. Staff may not own or come into contact with other pigs.
Slurry flows away through an underground pipe, channeled into a concrete pit.
"While some of these measures can be inconvenient to enforce, the financial benefits of a high health herd are enormous," says Rob.
"Our veterinary costs are minimal because we have no disease. We don't routinely medicate growing pigs, apart from a dose of antibiotics in the first week after weaning. Sows are injected only if they get sick."
Pigs grow out faster with no disease challenge.
"The feed conversion rate is a lot better," says Rob.
"Growing pigs achieve a carcass weight of 79kg at 140 days compared to the standard carcass weight of 75kg at 155 to 160 days."
Butt Farming supplies two-thirds of its pigs to Frey's Food in Cato Ridge and the balance to Ambleside Meats in Winterton.
Source: The Humane Society of the United States (HSUS) Report: "Welfare Issues with Gestation Crates for Pregnant Sows", July 2012.
Email Butt Farming at [email protected]
This article was originally published in the 11 January 2013 issue of Farmer's Weekly.