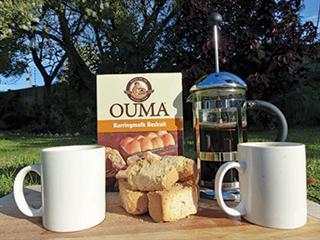 On the outskirts of Molteno one can see the new multi-million rand Ouma Rusks production facility being erected on the anthill-dotted veld of Friedenheim. The modern facility – to be completed in March 2013 – will ensure a 25% increase in rusk production to 23t/day, while employing hundreds of full-time staff. No doubt, the late Elizabeth Greyvensteyn, also known as Nannie, would be very proud of what her pioneering rusks have achieved in the modern hands of Foodcorp, considering the humble beginning in her own oven over 70 years ago.
The platteland's love of rusks
The idea of Ouma Rusks was born after Nannie and a group of friends had attended a Dutch Reformed Church meeting to discuss ways in which they could boost local mission work. The dominee at the time, Ds Els offered each individual a half-crown and challenged them to reinvest the money using their God-given talents. The choice was clear for Nannie: she would use a revered family rusk recipe to bake rusks and sell them at church bazaars, rugby matches and other social gatherings.

Elizabeth Anne Greyvensteyn (Nannie) (standing on the extreme left in the back row) and her future husband MJ J Greyvensteyn (later known as Thys Beskuitjies) standing on the extreme right in the back row. From the book Eeu van Genade – NG Kerk Molteno – 1881-1981 by Johannes Meintjes. Courtesy of Sammie Prinsloo
Her rusks were immediately embraced by the district's far flung rural community, who, pioneers at heart, deeply appreciated imperishable foods such as rusks and biltong. For example, one of Molteno's oldest residents, Oom Sammie Prinsloo (94), explains that both rusks and biltong were deeply valued by members of Boer Commandoes during the Anglo-Boer War (1899-1902). "Food that could not spoil was valuable and taken with [on commando]," he says. "Guys used to have biltong and rusks in their saddle bags as it didn't take up too much space and didn't spoil."
Furthermore, Oom Sammie believes that the initial success of Ouma Rusks (first marketed as Uitspan, then Outspan and only later as Ouma Rusks) was linked to a number of factors that included spot-on timing and effective management of the business's growth.
"They [the Greyvensteyn family] were the first to have that kind of idea, and they did it at the right time," says Oom Sammie. They also started small and they managed it [the business] in a healthy way." But of course hard work was a critical component too, a trait the late Nannie was always known for, says long-term Molteno resident, Anna Smith.
The Greyvensteyns knew that to expand their business they would have to grow beyond Molteno. Nannie's husband, fondly known as Thys Beskuitjies, owned the first Ford dealership in Molteno, and it was his son Leon who began the marketing of rusks across dirt roads to neighbouring districts with a Ford vehicle. Everywhere he went, his mother's rusks proved to be as popular as in Molteno.

Oom Sammie Prinsloo (94) believes rusks have always played a central part in history as they could last long trips without spoiling.
It was this incredible demand that would, in decades to come, be serviced by exponential production resulting in a family- run processing facility on Friedenheim that would also produce other popular brands such as Taystee Wheat and Simba Chips (both were later sold off). By the 1970s, the family business on Friedenheim was sold.

Changing times
Of course South Africa has changed a great deal since 1939 and the modern logistical and financial challenges facing Ouma Rusks in Molteno had by 2011 become a major concern for current owners Foodcorp. In fact, ageing infrastructure, poor water quality, unreliable electricity supply and bad roads, along with rising transport costs, forced Foodcorp to seriously consider moving the facility to Randfontein in Gauteng.
Nevertheless, Foodcorp CEO Justin Williamson said the negative socio-economic implications for Molteno if the Ouma Rusks facility were to be moved – especially the loss of 250 permanent jobs – was an extremely worrying factor and eventually a decision was made to look for ways to keep Ouma Rusks in Molteno.
"I could not bring myself to live with what would have been devastating consequences for the town of Molteno if we had moved the plant," he says. "And so I persuaded my board to agree to reinvesting in Molteno on moral and ethical grounds. Financially it was a poor decision, but it was absolutely necessary." And so Foodcorp approached the Eastern Cape government, Inkwanca Local Municipality and Eskom to consider some kind of partnership to address production challenges facing Ouma Rusks on Friedenheim.
After lengthy negotiations, an extraordinary partnership between the Eastern Cape government and Foodcorp was
subsequently born. Years of work were achieved in mere months as government set to work convincing the necessary stakeholders to invest in a water purification plant in the area. Government eventually agreed to negotiate with Eskom to supply electricity directly to the factory, the connection costs of which will be covered by the local municipality.
A tender has been put out by the Amatola Water Board for the construction of a water purification plant in the area, worth R2 million, and the Department of Public Roads has agreed to station a grader at the Molteno municipality during the harsh winter months to deal with heavy snowfall. According to the Eastern Cape MEC for Economic Development, Environmental Affairs and Tourism (DEDEAT), Mcebisi Jonas, the developments at Molteno proves the value of private- public partnerships in contributing to maintaining the socio-economic fabric of rural communities.

The new 8000m2 Ouma Rusks production facility that is to be completed in March 2013 will ensure a 25% increase in rusk production on Friedenheim.
"This partnership represents an important milestone for the region and proves that private enterprises and government can successfully work together to the benefit of the community," he says. "We are grateful that Foodcorp has taken the decision to stay invested in the Eastern Cape, thereby avoiding the loss of 250 jobs in Molteno."
Ouma Rusks live on
Watching the impressive buildings taking shape on Friedenheim one can't help feeling that Ouma Rusks somehow belongs to Molteno. It is maybe not surprising, therefore, that many Molteno residents are very proud of the Ouma Rusks facility near their town.
"Ouma Rusks has been part of Molteno for many years," says Linda Erasmus from the Saverite Supermarket in Molteno. "I think the new development is going to be very positive for the town." Molteno resident Siyabonga Rasmeni says Ouma Rusks have always been part of his early morning life, just like many others he knows in Molteno. "If you wake up early in the morning and there's no porridge, you just eat an Ouma Rusk and it keeps you going – muesli is my favourite," he says.

Linda Erasmus from the Saverite Supermarket in Molteno says that Ouma Rusk sales spike during the area's legendary cold winters.
But of course Ouma Rusks are today enjoyed and appreciated far beyond the borders of Molteno – just as Nannie and the Greyvensteyns had intended. In fact, she would no doubt be delighted to know that her rusks have become an important part of life for many South Africans living across the world.
For example, it's no secret that the large South African expat communities living in the UK and elsewhere in Europe have developed a unique nostalgia for South African food products. Visit London and its multitude of stores specifically targeting South African communities and you will always find Ouma Rusks somewhere on the shelves, literally a world away from the platteland of the Eastern Cape.
Sources: Town of Dreams, by Johannes Meintjes; Eeu van Genade – NG Kerk Molteno 1881 – 1981, by Johannes Meintjes; www.foodcorp.co.za and ouma.foodcorphosting.co.za

Contact Foodcorp on 011 549 1068.