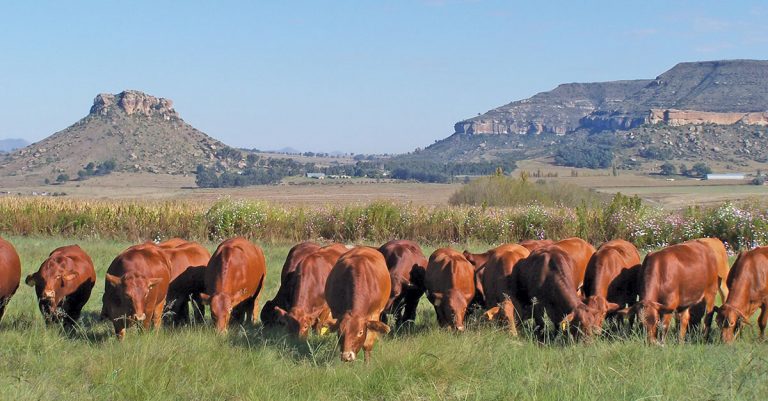 Brandwater is a family farming business based in the Free State. The business is headed by third-generation farmer Linde du Plessis, who has been farming in the Fouriesburg region for more than 40 years.
He was joined on the farm in 2003 by his son Chris. His other son, Koos, joined the business in 2008, and the team was complete when Linde's son-in-law Francois Hamman, who is married to his daughter Adele, joined them a couple of years ago.
The Brandwater farming business is well diversified and includes livestock, crops and apples.
The business is operated from properties around Fouriesburg, Clarens and Bethlehem in the Free State. The cattle component, which includes a Brahman and Droughmaster stud, as well as a Merino sheep stud, is predominantly based in the Fouriesburg region. The business's commercial livestock branch produces weaners for the weaner and feedlot markets.
From time to time, they also use some of the maize they produce to round off cattle for slaughter on the farm. The crop component comprises sugar beans, maize and wheat.
The livestock farm is situated in a sourveld region, and it experiences very cold winters with night temperatures dropping to -12°C, and averaging -6°C.
Even in summer, the nights are cold with temperatures dropping to around 6°C overnight. Daytime temperatures are mild, rising to a maximum of about 15°C in winter and 28°C in summer.
"It is a tough environment for the livestock to live in and grow," says Chris du Plessis.
Grazing management
The area experiences high rainfall of around 650mm per year, and the sourveld grazing consists of grasses such as red grass (Themeda triandra). As such, the veld is only palatable during the summer growing season.
During winter, the protein content and digestibility of the veld decreases.
"The cattle can graze on the veld from when the first summer rain starts falling around September, until we start getting the first winter frost in March or April," says Du Plessis.
During summer, the veld has a carrying capacity of roughly 1 LSU/4ha. To get the animals through winter, planted Eragrostis pastures are cut twice or three times during a season to produce hay.
The animals also graze on maize stubble during winter.
To supplement their nutrition, cows in the commercial herd who have already calved are given a protein lick during winter, while those that have not yet calved are given a maintenance lick.
Cows in the stud are given a protein lick from March until the veld has fully recovered in summer to ensure that they do not lose condition. All the cattle are given a phosphate lick in summer.
Cows with calves and young bulls are kept on planted ryegrass pastures that are grown under centre pivot irrigation. Bulls are rounded off from three months before auction.
Seeing red
The Du Plessis family has long been known for their White Manso Brandwater Brahmans, but when they decided to further diversify the business's cattle component, they started looking for a red, beef cattle breed with good meat qualities, which was tame and did not have calving and milk production difficulties.
"Red-coloured cattle are very popular in South Africa and traditionally this segment of the market has been dominated by only a few breeds such as the Bonsmara.
"We wanted to bring a red breed with a smooth coat to market, which was why we started focusing on Bos indicus-type Droughtmasters," says Du Plessis.
They bought their first Droughtmaster cows in 2012, and using genetics that represented the type of cow they were aiming to breed in combination with in vitro fertilisation (IVF) and embryo flushing, they were able to speed up genetic improvement in the herd.
"Ultimately, we aim to breed an animal that carries a lot of meat and that has a short, straight and slick coat. We also select strongly for animals with good temperament.
"Bulls must have strong, masculine heads and well-formed reproductive organs, including the scrotum and the sheath," explains Du Plessis.
Breeding and selection
The bulls undergo several rounds of selection, including at weaning, at one year old, at two years old, and then again in the months running up to auction.
Du Plessis says they look for animals that are well adapted to the tough environment where they farm and won't cause them any trouble.
"If an animal can adapt to the conditions in the area where we farm, it will be able to adapt anywhere."
Selection of female animals is strict, but slightly less rigorous than that of bulls. At weaning, those with obvious and serious faults are culled from the herd and subsequent selection is mainly based on the type of calf the animal produces and how she raises that calf.
Heifers are bred for the first time at 14 months and all female animals are expected to wean a calf weighing 50% or more of her body weight without having received any supplementary feeding.
"We are still building our herd, so we are not chasing a specific replacement rate for cows at the moment. We also want to breed our own animals, instead of relying too much on buying in more animals."
Some of the genetics currently being used in the herd originated from Australia, but Du Plessis says their objective is to breed a Droughtmaster that is unique and well suited to South Africa.
Their herd currently consists of about 200 female animals, and they have 50 to 60 bulls that still have to be marketed.
"A Droughtmaster bull can comfortably service about 30 female animals, but we maintain a bull-to-cow ratio of 1:25 for older bulls and 1:15 for young bulls."
He says this is mainly because they practise selective breeding in which certain bulls are mated with certain female animals. During each breeding season, roughly 50% of calves born are from the IVF programme for which they select only the top eight to 10 female animals. They also make use of natural breeding and of artificial insemination (AI).
The female animals that undergo AI are put with bulls for one or two cycles to service any that failed to conceive during AI. The herd has an average conception rate of about 90%, and a weaning rate of 85%. The inter-calving period for the herd is between 340 and 450 days.
The average birthweight for calves is between 28kg and 34kg, and the weaning weight (at six-and-a-half months old) is between 240kg and 280kg.
Commercial crossbreeding
Du Plessis says they have had great success using Droughtmasters in their commercial herd in three-way crosses between Brahmans, Simmentalers and Droughtmasters.
"We run our commercial cattle under very extensive conditions and for that reason they need to be extremely hardened, which is why we decided to include Droughtmaster genetics."
According to him, their use of Droughtmasters in commercial crossbreeding programmes has proven that the breed has strong prepotency, which results in calves with a high level of uniformity in appearance and conformation. Calves produced when using Droughtmasters in the three-way crossbreeding programmes do not struggle to achieve good weaning weights, he says.
"We really enjoy farming Droughtmasters; they don't have any frills and they give us no trouble."
They have seen the demand for Droughtmaster bulls amongst commercial breeders increase rapidly over the past few years, and already have a number of returning clients who have been impressed with the value that the breed adds to commercial breeding operations. However, Du Plessis says, while demand is strong, they are not rushing to chase higher numbers; they are instead keeping a steady focus on marketing top-quality animals.
"We want to know that the bulls we take to auction have been strictly selected, that they will add value for the buyer, and that the buyer will come back to us to purchase more bulls."
Phone Chris du Plessis on 083 687 3012, or Linde du Plessis on 083 700 8592.
Visit the Africa Droughtmaster Cattle Breeders' Society at droughtmasterafrica.co.za.