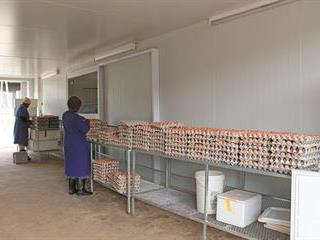 The mood in KwaZulu- Natal's poultry industry is generally flat and depressed, with imports, high feed costs and red tape cited as key threats to growth.
In 2011, the province's farmers held 15% of South Africa's chicken flock. Currently, they hold 13,6%. "The number of broiler producers in KZN has dwindled markedly, affecting both the industry's contribution to the provincial purse and job creation," says Janet Lee, general manager of the KZN Poultry Institute (KZNPI), a training facility that interacts with all facets of the province's poultry industry, including chick, broilers and egg producers.
She estimates that over the last few years, at least four large broiler operations in KZN have gone out of business. "They were stable, viable farms, but they found it too hard to keep going. So it will be even harder for smaller producers to do so."

Industry challenges
The poultry industry has moved to larger, integrated operations and is becoming a more corporate environment. "In KZN, the broiler industry is dominated by two large corporates, Rainbow and Astral, while Afgri is starting to expand by taking over medium-sized poultry farms," says Lee. "Barring a few smaller growers, these companies supply most of the province's formal markets."
Some corporates produce eggs, but for the most part this remains the domain of medium and small growers. Egg farmers are also finding the sector difficult, but some remain buoyant. "It all depends on how you are positioned in the market and whom you are selling to," explains Lee.
"Broilers are probably a more positive area to be in at the moment than eggs." She identifies three major obstacles for the poultry industry, both in KZN and nationally:
Feed is the single biggest input cost, making up 65% to 73% of total input costs. "While feed costs softened slightly from the highs of last year, the national drought is forcing the maize price higher, which will push up the price of feed and put farmers' margins under added pressure," says Lee. This has already started to happen. Drought pushed the yellow maize contract on Safex from R1 990/t near the end of January to R2 408/t at the end of February.
Poultry imports come mainly from Brazil and the EU. In November last year, 40 000t of poultry meat were imported into the country. Although import tariffs were introduced on certain chicken portions from the EU last year, these did not serve as blanket tariffs. "It has helped but was not a total solution. If import tariffs were implemented and they allowed scope for more people to grow broilers in particular, that would give a healthy boost to the industry," she says.
Those wanting to start small poultry businesses face reams of red tape on issues such as health, hygiene and UIF payments. "The legislation is onerous and beyond the scope of small producers," says Lee. In addition, apathy and slow service delivery from provincial and local government officials often hamper the aspirations of small farmers.
"In Nongoma, a community-owned poultry project has failed to launch. Their chicken houses have been standing empty for three years but operations cannot begin because they can't get access to water."
Creating opportunities
The new MEC for the KZN Department of Agriculture and Rural Development, Cyril Xaba, has prioritised the development of a strategy for the province's poultry industry. Lee believes that Xaba is a man of vision and says he has been meeting with key provincial stakeholders. She stresses that KZN needs reputable suppliers to establish depots to allow rural growers access to quality feed, chicks, pullets and health products. Training and mentoring on poultry production and business are also needed.
"Small poultry farmers need the services of specialist extension officers who are continually assessed and up-skilled," she says. Gaining market access is a common problem. Most farmers who attend training at the KZNPI say they battle to access markets, according to her.
"There must be opportunities for smaller farmers to become contract growers for larger companies, or to sell to government institutions such as prisons, hospitals and schools. I'd also like to see government create poultry 'cluster' units, where small growers have access to centralised processing, packing and marketing, and centralised input supply which offer economies of scale," she says.
Opportunities also exist for poultry to be farmed together with longer-term agricultural commodities such as sugarcane, red meat and timber. "A small broiler unit can be managed by an unemployed youngster, for example, and would bring more people into the economy and provide a quicker cash turnover," says Lee.
Phone the KZN Poultry Institute on 033 342 2814 or email Janet Lee at [email protected].