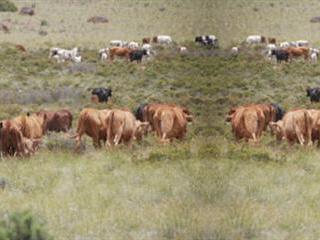 "The cows I breed on my mountain sourveld farm do well on most other farms. But cows from 'lower down' take a full season and longer to adapt up here in the mountains," says David Stern of the farm Quaggasvlei in the Sneeuberg near Nieu-Bethesda. He has been farming on this 4 778ha farm, with its panoramic view of the Compassberg, since 2004.
David's best-adapted cows are Tuli crosses, bred on the farm from his herd of 190 cows and eight Tuli bulls. When he leases cattle (he is currently leasing 40 cows) he ensures that the animals arrive in September or October. "They usually gain weight fairly quickly, while those arriving in March or April lose weight quickly as they find it difficult to adapt in winter," he explains. "The climate and vegetation necessitates long-term planning and a flexible management style.
"This season is a good example," he explains as we drive through the veld in early January. "Given the excellent rains last year – 985mm, when our average is 400mm – I thought the veld would flush beautifully in spring. It didn't happen because we had low temperatures into December, with frost in the middle of the month.
"As a result, the veld only started flushing in January and some of the cows I leased in last year were still adapting and took strain because the veld wasn't ready. They only started to pick up weight well into the summer. They will have adapted by next year, but if I was speculating and wanted to sell them this March or April, I would be in trouble."
Veld recovery
In the medium term, David hopes to achieve his aim of increasing his herd to 250 cows or more. He approaches veld and herd management in a holistic manner with high density, quick rotation grazing, using hoof action and dunging to stimulate the veld. Quaggasvlei was not regarded as a sound farming investment when the Stern family bought it in 1992 for R105/ ha.
Mountain wire grass or suurpol (Merxmuellera disticha), rhinoceros bush or renosterbos (Elytropappus rhinocerotis) and mountain resin bush or harpuisbos (Euryops spp.) had colonised large areas of the farm due to overgrazing practices. David's father Dougie, who practices holistic management on his farm between Nieu-Bethesda and Graaff-Reinet, saw the farm's potential, under a system of holistic management. Today the farm has a market value of approximately R2 500/ha.
"I'm fortunate to have my father as a mentor. He has helped me understand holistic principles and the need to improve the veld, livestock and finances all at the same time," says David who attended a course run by holistic educator Dick Richardson in Vryburg in 2007.
"I've camped off half the farm into 42 camps with electrified fencing. My average camp size is about 50ha but needs to be smaller – not more than 40ha – to benefit fully from livestock impact. In the mountains, where I haven't yet fenced, the camps are far larger. I hope to make some inroads on the fencing this year."
David explains that when a camp is too big, animals graze selectively and repeatedly target the more palatable grasses. In a smaller camp, a certain amount of pressure can be put on the cattle so that, with the aid of licks, such as the McCosker Brew, they will also graze the dominant, least palatable grasses such as suurpol.
This stimulates tufts to produce fresh, softer, more palatable plant material. Once the suurpol is eaten down, there is space for more palatable grass species to emerge. "The most exciting thing for me is to see sweeter grasses coming through the suurpol," comments David. His enthusiasm is shared by his wife Maryke, who has a Master's degree in Agriculture through the Cape Institute for Agricultural Training: Elsenburg. She manages an alien vegetation clearing and veld rehabilitation project at the Camdeboo National Park outside Graaff-Reinet.
Guardian dogs
In addition to the cattle, David runs 900 Dohne Merino ewes that lamb in a split season. Half the ewes with lambs at foot graze high quality veld in 20ha lambing camps. Lambs grow out for five to six months on 10ha (in total), divided into 1,5ha camps of lucerne, fescue and ryegrass.
David no longer loses lambs to jackal, and only loses a handful of sheep to caracal, which he regards as his 'gift to nature'. He does not hunt, trap or poison at all. Four years ago, he was weaning only 46% of his lamb crop. "That was when I invested in the first of my three Maluti Mountain dogs. These livestock guard dogs from the indigenous Africanis strain have turned my sheep farming around," he says. "I originally had Anatolians, but they roamed and were eventually shot on neighbouring farms.
"I was pretty desperate when I contacted Matthew Berry in Hillcrest, KwaZulu-Natal, who breeds Maluti dogs. He first came across them in Lesotho, working with the herders in the mountains and noted how effective and obedient they were. So he brought some to South Africa and is the only Maluti breeder in this country.
"Small-stock farmers have been getting excellent results and a significant decrease in predation through his Maluti Dog Project. He had one puppy left from the latest litter at the time, so I drove to Hillcrest to fetch him. I called him Max." Nowadays, David can relax and even enjoy socialising in the evening to the sound of jackal calls. "When my father-in-law heard the jackal while on a recent visit, he asked 'Aren't you worried?'
I told him it was actually quite a pleasant sound these days, because I know my dogs are out there protecting ewes and lambs. I fitted a GPS collar to one of the dogs and one night, between 9pm and 7am, he covered about 9km in a 20ha camp where the ewes were lambing."
An added advantage of the Maluti dog is that they can look after the sheep either alone, or in twos or threes. "I change their routine all the time so that they stay adaptable," he explains. "I can take one of my dogs to another farm and it will immediately start looking after the sheep there."
The dogs live out in the veld with the sheep but also interact with humans, as David demonstrated at one of the lambing camps. Max is the most forthcoming of the three and enjoys being touched. Harry and Zakumi are more aloof. "Matthew realised that it was better to feed the dogs once a day instead of leaving self-feeders in the veld, which makes them too independent," David explains as he gives them their food. They eat standard balanced dog rations and never meat, as this can lead to hunting.
It sounds like the canine answer to any livestock farmer's problems, but is not that simple. A farmer must properly train and manage the dog from a 12-week-old puppy to adulthood. "For example, when I get a new puppy, I put it in a pen with two ewes and their lambs for several weeks. The puppy learns discipline from the ewes from the earliest age whenever it gets too rough with the lambs. It may be playing with the lambs, but they are vulnerable and can get injured."
Introducing puppies to the flock too soon is the wrong thing to do, stresses David. "I only introduce a dog to a flock of breeding ewes and lambs at 18 months. If a farmer has a problem with his Maluti, it is most often training and management that is at fault rather than something being wrong with the dog.
A poorly or wrongly trained Maluti can be rehabilitated up to 18 months. "I have such faith in the dogs because Matthew breeds to a strict standard to maintain the best genetics. Everyone who buys a dog from him signs an undertaking not to breed from it and to have it spayed or neutered."
Cash crop
Moving on from the lambing camp we pass another enterprise, David's onion seed project. "Last year I started producing onion seed on 1ha for a Dutch company, organised through Klein Karoo Saad in Oudtshoorn," he explains. "One hectare can produce from 600kg to 700kg of onion seed, which sells at €28/kg (R279/ kg). All being well, I'll increase the area this year but will plant later in case temperatures remain low into December again."
Looking after the soil
In another venture, David and Dougie are partners in a no-till contract planting service for other farmers in the district. "We seed the soil directly without ploughing, so we don't break down soil structure," says David. "I learned about no-till planting as a student doing my practical on a farm in Wyoming in the US."
David has a diploma in agricultural management from Saasveld NMMU (formerly Saasveld Forestry College, now a campus outside George of Nelson Mandela Metropolitan University in Port Elizabeth). In Wyoming, he learned about coping in blizzards and extreme weather conditions that make the weather on his farm seem temperate by comparison.
"It was something else there and it was just the boss [his wife] and me, which meant I had to do everything on my own, from marking calves to changing tractor tyres," he recalls. This could account for his satisfied look when we return to the farmhouse and find his staff removing a tractor tyre for repair.
Contact David Stern on 082 770 5960 or email: [email protected]
Maluti Dog Project: contact Matthew Berry on 031 768 1941 or email [email protected]. Contact Dave Mullins of Great Karoo Tulis on 082 299 7953 or visit www.greatkarootulis.co.za.