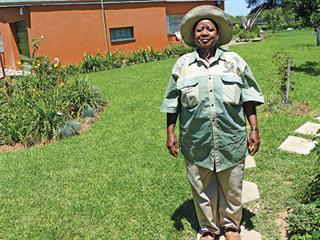 Rachel Mamonare Mathabathe began farming with her late husband Peter, an electrician by trade, in the communal areas of the former Lebowa homeland near Ohrigstad in Mpumalanga in 1998. The couple started with just five cattle, two goats and six sheep. Over the next two years, they applied for eight farms in succession under the government's land reform scheme, LRAD (Land Redistribution for Agricultural Development) – but to no avail.
When Peter died in 2000, Rachel felt it her duty to continue with their venture. Two years later, with a dozen members of her family, she applied for the 428ha Portion 4 of the farm Klipfontein near Mookgophong (Naboomspruit), also under the LRAD scheme. It was only in 2009, however, that she obtained ownership. Although other members of the family were involved nominally with the purchase, Rachel has always run the farm – known as the Ngwanaboko Farming Project – entirely on her own. Today it is packed with livestock.
A rural life
Agriculture has always been a way of life for Rachel. She grew up in the village of Motloulela in the Magalaka area of Sekhukhuneland in what is now Limpopo. It was her duty as a child to weed the garden before school. And later, her school fees were paid with money from beans grown by her family.
Thanks to her rural roots, Rachel's bond with the land has always been strong, despite the fact that she had other jobs before farming fulltime. She taught from 1976 to 1994, and, after the birth of her only child – Puleng Ponyane Mathabathe – ran a spaza shop in Lebowakgomo.
Progress
In 2003, Rachel, determined to expand her livestock operation, moved it from Ohrigstad to the communal area of Bergenek. At the time, she had 29 cattle, 40 goats and 95 sheep. She made real progress, but still longed to be based near her livestock so that she could manage them better and reduce theft. "They started breeding here at Bergenek," she says. "But it was hard because I didn't have a house and I was farming remotely."
Rachel was therefore delighted to eventually be awarded Klipfontein farm in 2009. Although it was some distance away – 250km by road west of Ohrigstad – she had her farm at last, and immediately set to work on it. She renovated the run-down home and began bush clearing, alarmed at the number of introduced plant species, especially lantana, that had invaded the land. She moved to Klipfontein permanently in the same year, and continued to develop the farm, building roads and bridges, and improving the fencing.
Through the years, Rachel has also devoted herself to learning more about livestock. She has attended numerous farming-related courses, including livestock management study groups at the Tompi Seleka Agricultural Training Centre.
An impressive beef herd
Farming with cattle can be tough, as cash flow can become a problem, says Rachel. "It's very important to be patient, especially with livestock, because you only get something at the end of the year," she explains. "Throughout the year, you only spend money."
Rachel runs two herds: a crossbred herd with 110 cows and 110 weaners, and an Nguni herd of about 80 breeding cows. The crossbred herd – the family herd – currently consists of Bonsmara, Nguni, Simmentaler and Brahman, and is also home to multiple sires, including Brahman/Simmentaler, PinZ2yl and Bonsmara bulls.
The Nguni herd, which is run separately, was bred from 30 heifers and a bull (an Angus bull was also used for terminal crossing) that she received through an Industrial Development Corporation initiative in co-operation with the University of Limpopo in 2011. She has five years to repay the value of this loan.
Breeding
Although Rachel runs no formal breeding season, most of the calves are born from November to January. The calving rate is between 80% and 85%, while most weaners are sold at seven to eight months, at an average weight of 250kg to 280kg. Some cattle, however, are grown out for the traditional market.
Rachel selects 10 replacement heifers a year to add to the crossbred herd. She also selects a new bull once every three years.
Cattle are run on veld with a phosphate lick in summer and production lick in winter and at times, she uses the biomass from the Moringa oleifera trees as a feeding supplement.
Rachel also places chopped-up aloe leaves in water troughs as a natural preventative measure against parasites. She nevertheless dips her cattle every two weeks in summer and once a month in winter.
Careful grazing
Rachel emphasises that enhancing grass production is crucial for sustainable cattle farming. She applies a high-density grazing regime to 21 fenced camps on her farm, each of which has its own water source. "I put the cattle in the camp for two to three weeks until they've grazed the grass to a height of about 20cm, and then move them to the next camp," she explains.
The hoof pressure and non-selective grazing increases grass production, but Rachel never allows the cattle to graze the grass to its roots. Effective resting of camps is vital too; the cattle return to a camp only after seven to 12 months. "If you love something enough, you go into the detail," she says.
Her interest in nurturing and managing her grass properly has ensured her recognition from the Grasslands Society of South Africa, who voted her the 2013 Best Upcoming Farmer in Limpopo.
State assistance – but only so far
Rachel says that she cannot afford to buy or lease land in the Waterberg near Mookgophong, especially as she has spent so much of her resources on developing her portion of Klipfontein."I used all of my pension to develop this farm," she explains. Although she has put her faith in the state to assist her in expanding her operation, she has been unable to source more land via the land reform programme.
This is despite visiting the provincial and national Department of Rural Development and Land Reform (DRDLR) offices on several occasions. Her experience has shown that the DRDLR does not appear to support farmers who have already benefited from the land reform programme even though – ironically, from a production point of view – these are the producers who need the most help.
"I need more land to create jobs so that the economy of our province can grow," she says. "But the state limits me because it is saying 'don't expand, don't hire people'." Rachel feels that the land reform process is not always aimed at the needs of farmers. "They give a person with 10 cattle a farm of 2 000ha," she says. "But if you have a lot of cattle they won't lease you more land."
Phone Rachel Mamonare Mathabathe on 082 442 3579.