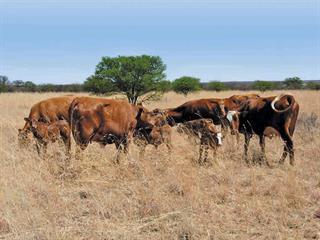 "For many years, the Afrikaner/Simmentaler cross was arguably one of the most popular crosses for commercial beef cattle production," says Lynton Vermaak, advisor to Dr Hentie Jansen van Rensburg's Demeter Afrisim Stud near Leeudoringstad.
"This eventually resulted in the Afrisim breed as we know it today. It was a logical step for cattlemen to formalise Afrisim stud breeding," he says. Hentie, a gynaecologist in Potchefstroom, was one of the first breeders to register an Afrisim stud in South Africa.
It was initially registered as 'a breed under evaluation' in terms of the Animal Improvement Act, 1998 (No. 62 of 1998), and the Afrisim Breeders' Society was established in 2009 under the auspices of the Afrikaner Cattle Breeders' Society of South Africa. This year, the Demeter Stud was voted the Afrisim Breeders' Society's Herd of the Year for 2016.
Establishing the herd
Lynton has advised the Demeter stud from the outset. In the early 1990s, Hentie had to take over the family farm due to his late father Sarel's ill health.
Lynton recalls that after he and Hentie had consulted, Hentie decided to start upgrading the existing herd of "hodgepodge cattle strongly influenced by the Afrikaner". After much deliberation, they decided to establish a commercial herd of Afrikaner/Simmentaler crosses.
"We took the decision on the basis of research in which I was involved during my stint at the Potchefstroom College of Agriculture," Lynton recalls.
"The Afrikaner/Simmentaler crosses grew well and were hardy and adaptable, ideally suited to extensive farming conditions in North West. It's a breed you can farm anywhere. In the drier parts of the country, you would concentrate more on the Afrikaner genetics. In the wetter parts, more on the Simmentaler."
Lynton joined the stud full-time in 2008 after retiring from the Agricultural Research Council. Their aim was to breed no-nonsense cattle with a stable temperament that were easy to farm.
The economic reality of sustainable and profitable red meat production in South Africa is such that no breeder can afford animals that have to be fussed over, he says. Hentie wanted medium-framed cattle, well adapted to extensive African conditions, which combined the positive qualities of the Simmentaler and Afrikaner breeds.
The Simmentaler contributed accelerated growth and high milk production, while the Afrikaner contributed good pigmentation, teat placement, hardiness and adaptability. In addition, Simmentaler genetics made the Afrisim a good choice for feedlotting, while the Afrikaner genetics contributed to its ability to thrive under extensive conditions, according to Lynton.
Performance testing
Performance testing forms the foundation of the stud's success. "If we don't constantly evaluate the herd on hard facts and statistics, it will be impossible for us to keep track of its performance," Lynton explains.
"It's the only way we can determine the economic value of the herd. I simply can't understand how stud breeders and commercial cattlemen still make huge investments in breeding material on the basis of physical observation only."
The stud consists of 160 cows and 40 replacement heifers. The average birthweight of bull calves is 36kg, while heifer calves weigh in at 34kg on average. The 205-day corrected weaning weight is 240kg for bull calves and 220kg for heifers.
The cow/calf weight ratio at seven months is about 48%, and the herd's average intercalving period is about 400 days. The main breeding season is in summer, and cows are run with the bulls for 90 days from 10 December to 10 March, while the heifers are run with the bulls for 63 days from 20 November to 22 January.
The shorter season facilitates fertility selection, and heifers that conceive early in the season are normally the most fertile. A long breeding season creates ample opportunity for most of the heifers to conceive, making selection for fertility difficult, Lynton explains. Only 20% of cows are put to the bull in winter, from 1 July to 1 September.
Hentie and Lynton are phasing out the winter mating season due to the sharp rise in input costs, particularly feed. About 40 of the top heifers are retained as replacement heifers. One bull is used for every 30 cows for a 90-day period, and a single bull for every 20 heifers for 63 days.
Steers are weaned in May and put on the veld during winter. At about 15 months, steers and redundant cows are placed in a small feedlot, rounded off on a silage-based ration and marketed.
By strictly selecting for traits that will ensure economically sustainable beef production, Hentie and Lynton have built a uniform, adaptable herd. Pure registered Afrikaner bulls were initially run with carefully selected cows from the existing commercial herd.
In 1994, they introduced 30 registered Afrikaner heifers from the Genis bloodline, but in 1996 switched to registered Simmentaler bulls to broaden the herd's genetic base.
"We selected medium-framed Simmentaler bulls with proven performance and good coat quality," says Lynton. "Since then, we've followed a simple criss-cross breeding system between the two breeds to safeguard the integrity and intrinsic value of Demeter Afrisim Stud. Currently, we use only registered Afrisim bulls."
Reproduction and an optimal cow/calf weaning ratio are the pair's main focus. "We want to wean heavy calves, but optimal reproduction is our main aim," Lynton explains.
"Heifers are mated at 24 months and ideally at 66% of their dams' weight. Under extensive ranching conditions, this is only possible at about two years. The emphasis is on fertility as this trait is only 10% heritable and is mainly influenced by management and environment. Growth traits, on the other hand, are 40% heritable and consequently easily achieved through corrective breeding."
Bulls and heifers earmarked for the stud are selected at weaning. A second selection follows at 18 months and from then on, animals are selected purely on production data.

Ideal stud animals
The Demeter Afrisim Stud's ideal animals are light red and have a white forehead patch, although this is not obligatory. The bulls are medium-framed, well-muscled and have a loose skin and smooth coat.
Though bulls are bought in from time to time, Lynton mainly uses Demeter bulls that undergo Phase D testing on the farm. Strong legs, a functional muzzle and well-formed scrotum are vital. Females are selected for strong feminine characteristics and must have sound udders, functional teats, and a smooth, shiny hair coat.
Veld composition
The Demeter Stud is run on the farms Klipkop and Kareeboskuil (a total of 1 450 ha). Grazing on Klipkop consists mainly of red grass (Themeda trianda), while the Kareeboskuil veld includes a significant woody component, including velvet raisin (Grewia flava), karee (Searsia lancea), and sweet thorn (Acacia karroo).
The herd is run on the Klipkop grassveld in summer and on Kareeboskuil in winter, stocked at about 6ha/MLU. The average annual rainfall is about 600mm, but only 290mm was measured last summer. About 90ha are planted to dryland maize for silage and as winter feed, while 30ha are under Smuts finger grass pasture.
Temperatures vary from below freezing in winter to the high 30s in summer. The farms are divided into 37 camps of approximately 40ha, each with its own watering point. In summer, a phosphate lick is supplied and in winter, a protein lick.
"The past few years' drought annihilated the veld and resulted in very poor maize harvests. Animal feed prices shot up dramatically. It's under conditions such as these that the Afrisim really proves its value as a hardy, adaptable breed, says Hentie.
"We reduced cattle numbers by 25% and succeeded in getting through on the veld and maize stover with the minimum supplementary feed," he says.
Lynton adds that, as could be expected, the animals did not do as well and lost condition during the extreme heat and drought.
"We were fortunate not to lose any animals, but we saw the repercussions in the reconception figures. Cows with first calves do well on inspection, but the heifers had a 95% conception rate. Weaner weights at 205 days were 15% down. Because of the severe forage shortage, we were forced to use chicken litter during the worst summer months. We'll have to continue reducing numbers for the next year or two to give the veld time to recover."
The stud is inoculated annually against botulism, anthrax and lumpy-skin disease, and heifers against brucellosis as well. Lynton says that South Africa's low weaning rate of about 65% can be improved by implementing specific breeding seasons.
Reliable record-keeping and avoiding over-grazing, even in commercial herds, are vital. The same applies to regular testing for venereal diseases.
"Animals on sub-standard nutrition also usually have poor conception rates, and seldom, if ever, recover sufficiently to increase their rates. Reproduction and regular calving are the cornerstones of a successful beef cattle breed. One should cull females that skip calving without reason.
Too much emphasis is placed on growth. All these traits are genetically correlated, and chasing heavy weaners without proper selection pushes up calf weights, resulting in calving problems," says Lynton.
According to him, animals are bred increasingly larger, which puts unnecessary pressure on natural grazing resources and increases maintenance costs. Successful and sustainable cattle production, says Lynton, depends on a cattleman's ability to maintain a balance between what nature can provide and what consumers demand.
Email Lynton Vermaak at [email protected] or phone Dr Hentie van Rensburg on 083 519 2515.